Motherhood Maternity Canada: BOGO Deals on Long & Short Sleeved Tops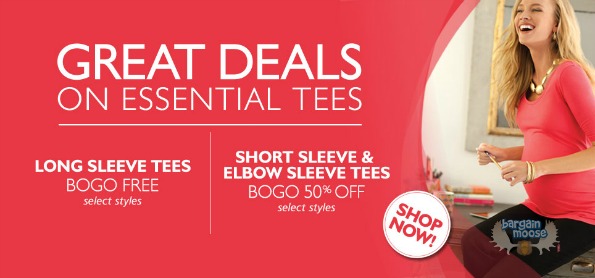 Motherhood Maternity Canada is offering a great deal on long-sleeved tops with a buy one, get one free sale. The short-sleeved tops are buy one, get one 50% off.
You may be into your second trimester and realizing you still need some long-sleeved tops for the last few cold months of winter and those cool Spring days. Or you may have just found out you are pregnant and will need some tops for Fall. Either way, this is a great deal on long-sleeved maternity tops.
This button detail striped long-sleeved top is cute and comfy. In three different colours of stripes, you could get one of each! Regularly $24.98. Get this long-sleeved V-neck top free, regularly $19.98 with the purchase of the first top. I love the selection of colours, especially the Sapphire. Sometimes you can feel a little down during pregnancy and this is a top that will bring up your spirits with its colour.
Spring and Summer are coming and we can start pulling out our short-sleeved and elbow length tops. If you don't have any or don't have enough to get you through your pregnancy, now is the time to get some at buy one regular price, get the second 50% off.
I love this butterfly print scoop neck top. Butterflies remind me of life so it makes a great statement on a growing belly. Now $39.98. Get this striped (because this is a great time to wear horizontal stripes) V-neck ruched maternity top for only $19.99 when you buy them together. Regularly $39.98.
Shipping is $8.95.
(Expiry: Limited Time Only)