Get 35 Free Gifts To Grow Rewards Points @ Pampers Canada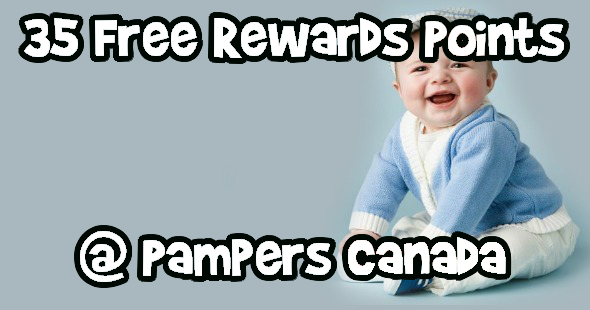 Pampers Gifts To Grow points seem to be growing on trees lately. There are free codes coming left right in center. If you don't already collect Pampers Gifts To Grow Rewards points, then now is the time to start. Right now you can collect 35 free points just by entering these two codes. These codes probably won't last very long, as usual, so enter them into your Pampers Canada account while you still can.
Is it bad that I am a little sad about potty training my toddler? I love collecting these points. It may be a sort of addiction. Diapers can be expensive, so the little rewards we can claim by collecting these Pampers points are awesome. Relieve the huge cost of diapers a little bit, and start collecting. Even if you are not a parent, some of the perks and rewards you can redeem would be good for anyone. You don't need to have kids to start collecting these Pampers Gifts To Grow Rewards points.
Here are the two Pampers Gifts To Grow Rewards Points codes available right now:
TWITPAR789NLL15 - 15 free points (expiry unknown)
CM3TY5FRM792015 - 20 free points (expires May 31st)
Actually, one of my friends collects these points just by watching for free codes. She collects thousands and then redeems the points to get some Christmas presents for her family and friends. I have previously used my points towards getting a Well.ca gift card, but right now I want to save for a scooter or something for my son. I wanted a potty seat for my kiddo, but the only one they have right now is the Dora Toilet Training Seat for 1000 points. If it was anything else I would snag it, but Dora for a little boy?
If you want a quick idea of what rewards there are available at Pampers.ca, take a look:
400 points - Shutterfly 4x5 Personalized Magnet
600 points - 25 Shutterfly 4x8 Photo Cards
1000 points - BabyLegs Warmers in Pink
1100 points - Prenatal and Postnatal Yoga DVD
1600 points - Itzy Ritzy Chewable Teething Necklace
7500 points - Micro Mini 3 in 1 Scooter
and more
Some people like to redeem their points right away, and others like to save for the bigger items. What do you prefer? The only downfall is that shipping seems to take quite a while. I waited 4 weeks for my last reward I redeemed. You don't have to pay shipping or anything for these offers though, so they are absolutely free.
Be sure to sign up for email updates so you don't miss out on any future Pampers codes posted in our Bargainmoose forum.
(Expiry: 31st May 2015)