Fido Canada: Unlimited Plan $60/m + 1 Month Free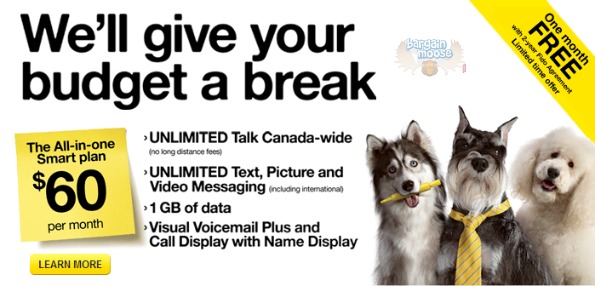 Fido Canada has an excellent promotion on for a cell phone plan. On any two year plan (with contract, works on Androids and seemingly everything but iPhones) you can get an unlimited across Canada talk and international text package for $60 a month with your first month free.
The unlimited plan includes:
Unlimited Incoming and Outgoing texts
Unlimited Outgoing international texts
Unlimited Picture and Video messaging
Unlimited Anytime Minutes
Unlimited Incoming calls
Unlimited Evenings and weekends
Canada-wide long distance
Visual Voicemail Plus and Call Display with Name Display
1 GB Data
Plus you get that 1 month free - a $60 (+ tax) value!
I'm with Fido and despite a few issues with reception, I am the most happy on their unlimited plan than I have been with any other carrier (and I have been through four carriers). The price is reasonable and the unlimited leaves me with no worries - I always know what my cell bill is going to be.
(Expiry: Unknown)