Petcetera: Spend $50 & Get a $25 Gift Card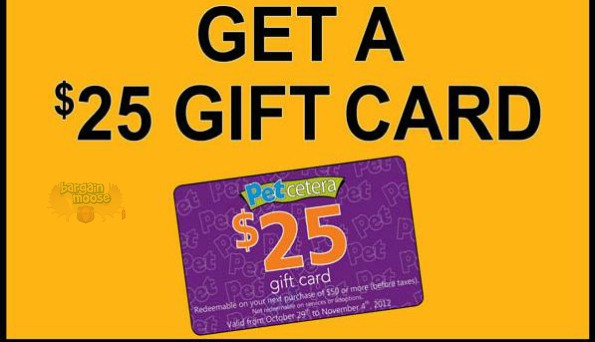 Petcetera has their awesome gift card deal back on for a limited time only.  Spend $50 or more on your purchase and you will get a $25 gift card to be redeemed on your next purchase.
This is an in-store deal only but it is well worth checking out.  The gift cards are redeemable on your next purchase of $50 or more between October 28th to November 4th 2012.
The only things that this deal excludes are adoptions and services.  Anything else, including sale items, can be used towards your purchase to get this gift card deal.
Whenever this deal comes around, we go into Petcetera a few times and buy dog food, only spending the minimum so that we can rack up the gift cards.  Our dog food is a special diet one that a lot of stores don't carry.  This is a great way to save money on it in the long run.
Also, I know a lot of people that like to buy pet gifts for their furry creatures at home for Christmas.  They sell lots of treats, clothing, toys and much more.
((Expiry: 28th October 2012)