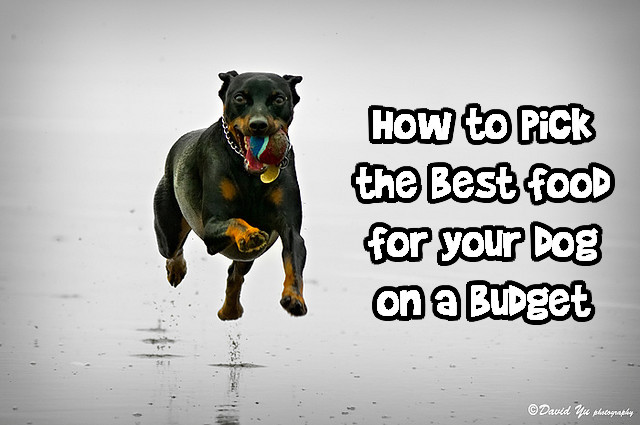 I recently wrote an article about saving money on your new animal, and one of the items I wrote about was to consider the type of food you are feeding your dog.  We received lots of commentary about that article.  Bargainmoosers are passionate about their animals, awesome!   We all love our dogs, and we want to provide them with the best possible life.  Food is a huge contributor to that.  It just makes sense that the better you feed your dog, the healthier they *should* be.  Of course there are factors that we can't control, like some breed-specific physical issues like hip dysplasia in some giant breeds of dogs.   But food is one area we have complete control over.
We have been very fortunate with our dog. He is nearly 10, and he is still very active and healthy.   I have always regularly run with him.   He trained for my half marathon with me last year, and he actually ran 21 kilometres!  Rocky is an amazing dog, and we want him to live a long, long time.  What things should we consider when picking the dog food for our precious pup?
Ratings
I found an amazing website called Dog food advisor, which has comprehensive ratings of each type of dog food available in Canada.  Foods are listed by type:  hypoallergenic, raw, high carb, low carb, etc.  Talk to your veterinarian to figure out which food is best for your dog, given his/her breed, health, and activity level.  Then you need to consider the cost of each type of food.
Research
I learned through researching this article, that Canada does not regulate pet food that is manufactured in Canada and sold domestically.  What this means to us, the consumer, is we need to do our own research.  Bargainmooser CeeCee told us that there is an organization called Association of American Feed Control Officials, or aafco, which is a voluntary organization designed to regulate the sale of animal food in the U.S.  The good news for us is that there are some foods in Canada which carry the AAFCO label.  Keep your eyes open for this in the pet store, or when you're conducting online research on the food you are feeding your pup.
What fits with your lifestyle?
Although I'd love to consider feeding my dog a raw diet, I think it would be difficult to fit that into our lifestyle.   I know that lots of people do it successfully; I feel that for my family it isn't a realistic option given that it requires time in the procurement,  the preparation and storage of the food.  Check out this article from Dog Food Advisor about the benefits and risks of the raw food diet.  I have a co-worker who feeds her dogs the raw food diet, and unfortunately, one of her dogs (a beautiful great dane) passed away because he choked on a bone fragment that got lodged in his trachea.  My friend was beyond sad about the loss of her dog, but she still believes in the benefits of a raw food diet.  She now feeds her 2 dogs a raw food diet, and says that she spends about $200 per month for her food.  Additionally, she has to drive to a nearby city to pick up the food, which is an hour drive, both ways.   If you live in a larger city centre, there is greater certainty that there will be a local raw food supplier.  The costs of raw food will depend on the size of your dog and the growth stage in which s/he is at. For example, my friend feeds both her dogs about a pound and a half of raw food a day: a mix of chicken carcass and veggies and fruits.  Her great dane will continually eat that volume of food, but her puppy's food amount will decrease as she gets older.  My friend's costs will then therefore decrease.  There are different forms in which to purchase the raw food.  Some suppliers put the food into "pucks" which are frozen, and you de-thaw and feed your dog the appropriate number of pucks per day.   Maybe it's easier than I initially thought!
Cost
As much as we would each love to feed our dog the best food possible, we also have to be cognizant of our budgets.  Check out as many ratings as possible about the food you are considering, and choose the highest quality food that your budget will allow.  Don't skimp on food, the better-quality food your dog gets now, the more likely s/he will grow to be healthy and fit in their older age, hopefully reducing your veterinary bills.
Dog food is one of the most expensive parts of owning a dog.  It is an essential part of your dog's life, and we all want to provide the best of the best for our fur babies.  Do your research, examine your budget, and ensure you choose the best possible food that you can afford.  Don't forget to ask your friends for referrals of dog food providers, and remember that many pet stores will offer coupons and frequent customer discounts if you ask.
Photo credit: David Yu