Canadian Freebies: Meowmix Cat Food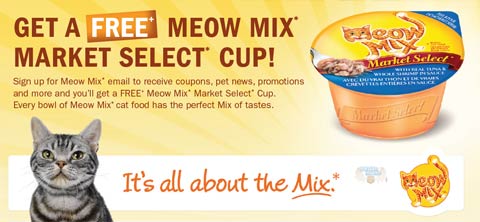 If you register an account on Meowmix.ca, you can get a printable coupon for a free Meowmix Market Select 78g cup, a freebie for your kitty cat.
At the above link, click "sign up and save" at the bottom right.  You have to fill in your details - just be careful when you're filling in the form that you add your correct age. I accidentally stated a year not long ago, and then the form wouldn't let me finish as it said I was too young to join.
Once you have done that, you'll see a page with an "enjoy a free cup on us" button, and it will link you directly to a printable coupon for your free Meowmix. Mine appears to have a specific bar code on it so I won't share it here - you'll have to register for the Meowmix account yourself to get this freebie. Take the printable coupon with you to your local grocery store, and you can claim your free Meowmix cat food!
I've no idea what these Meowmix Market Select cups are worth, does anyone know?
(Expires 16th September 2011)