SipCaddy Bath & Shower Holder only $20 @ Amazon.ca!!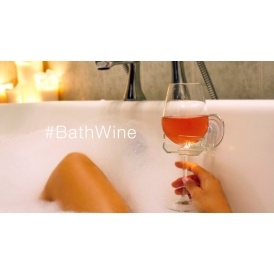 *BUMP! We all need one of these, especially at this fantastic price.*
The SipCaddy Bath & Shower Portable Caddy for Beer & Wine Suction Cup Drink Holder is currently on sale at Amazon.ca. Try saying that name 3 times fast! You can take 62% off the regular price and pay just $19.95 for this SipCaddy Wine Glass Holder - with free shipping if you have Amazon Prime. Get free super saver shipping on orders over $25 too.
The weekend is here! For us moms, sometimes the only time we get to relax is in the bath once all the kids are asleep. Why not bring your glass of wine with you for ultimate enjoyment? The SipCaddy Bath & Shower Portable Glass or Bottle Caddy is a great way to unwind. Especially since you won't even be paying full price. The SipCaddy comes in six different colours, so you can snag a his & hers or even just get your favourite colour. The available colours are:
clear
blue
pink
purple
red
black
SipCaddy claims to be the only cup holder in the world that can hold bottles, cans and wine glasses. Even solo cups are displayed in one of the product images on Amazon.ca. The suction cup is supposed to be able to hold up to 7 pounds if correctly applied on a proper surface. What? You drink the whole bottle of wine in one sitting too? It is even dishwasher safe if you happen to make a little spill or just want to send it through for a routine cleaning. The reviews look wonderful for this perfect little cup holder. Users have applied it to the inside of their shower, to the inside of a hotel pool and many other places. Many consumers say that the SipCaddy is strong and reliable. I personally can't wait to try it out myself.
It is best to apply the SipCaddy drink holder to a non-porous surface so that you don't end up bathing in your drink. That means you can perfectly apply it to glass, mirror, smooth tiles and other surfaces like that. Is showerbeer or showerwine a word yet? Amazon Canada will also throw in free shipping if you spend $25 or more, so you want want to take a little browse through and see what other wine accessories you can snag. Time for some #bathwine!!
So Moosers, is this something you would use?
(Expiry: Unknown)