MotherWord Ultimate Family Magnetic Calendar $13.27 @ Amazon Canada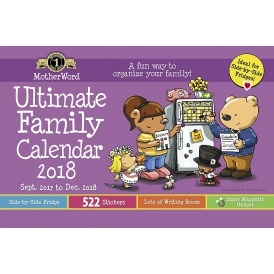 You are about to grab the reins on your crazy life! If you have a husband and kids, then you know how difficult it can be to juggle schedules. Worry no more! Today, Amazon.ca has the MotherWord Ultimate Family 16-Month Magnetic Calendar on sale for $13.27 down from $20.58. Personally, I have not seen these calendars get discounted by this much before!
This calendar starts in September 2017 (so you can start using it as soon as you get it) and ends in December 2018. It is going to help you organize your life when it comes to school activities, appointments, vacations and more. There are 522 "Little Reminder" stickers to place wherever you please throughout the year plus writing space.
Get free shipping on orders over $35 at Amazon.ca.