Lunapads Coupon Code: 20% Off $35 Purchase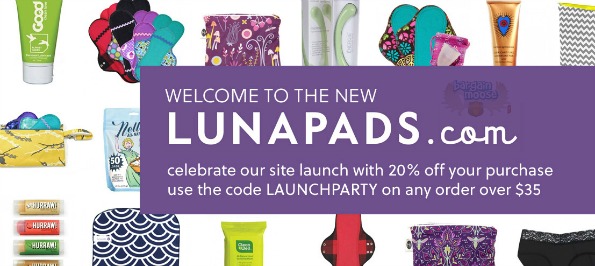 Lunapads has just relaunched their website with a celebratory higher value coupon code than normal. Receive 20% off on purchases of $35 or more.
Click here to shop @ Lunapads Canada now
Coupon Code: LAUNCHPARTY
Discount: 20% off $35
Expiry: 23rd January 2015 @ noon PST
I did find the new website a bit slow, maybe because they are getting a lot of attention with their clean new design. You can find all the products you know and love at Lunapads including The Divacup and Lunapads.
I recommend the Diva cup to whoever will lend an ear and is interested in either.
saving money
helping out the environment
...or both of these things. The Divacup is a little silicone cup that will work every month for several years, and it only costs $39.99. After coupon code, the cup comes down to $31.99. If you were to spend only, on average, $10 a month on tampons or pads then you roughly spend $120 per year on menstrual products. For $32, or just over three months' worth, you can have a device that will last for up to five years, maybe even longer.
Lunapads now offers an even greater variety of products including clothing, health care, and home products. I have heard brilliant things about the Meow Meow Tweet Deodorant, and it is currently priced at $13. Natural beauty bloggers I read think this is one of the best natural deodorants out there, so I have been dying to try it.
This Cuppow BNTO Canning Jar Lunchbox Adaptor is pretty cool. It allows you to convert a canning jar into a bento style box by dividing it to two separate areas. One of these little cups costs $8.99. This Cuppow Canning Jar Drinking Lid is also used for converting a mason jar - this time into a drinking cup. This attachment also retails for $8.99. I like drinking out of glass jars over plastic, so I think these lids are a very neat idea for converting a basic mason jar rather than buying a new bottle.
I think the new expansion at Lunapads brings in some very good products and accessories. Some of these products I have never heard of before, so it certainly widens my horizons and piques my interest.
Receive free shipping on orders of $75 or more. For orders in British Columbia, shipping starts at $4.50, whereas shipping in other provinces starts at $7.50. The shipping is tiered, so check it out on their website.