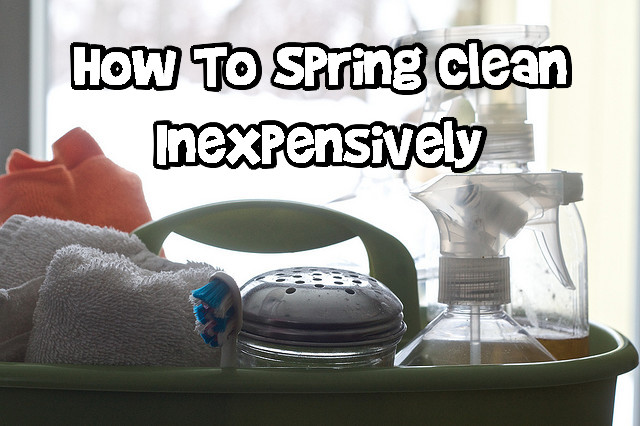 Now that we're back from our trip (sniff sniff), I am thinking we need to do a good clean of our house.  I might sound like a slob when I say this, but we have never actually done a full spring clean of our house, and we have been here nearly 5 years.  Don't get me wrong, we clean regularly, but we haven't spent a lot of time doing any deep cleaning.  The type of cleaning that makes you feel like the world is a better place.  A cathartic type of cleaning.  I'm ready for this, and I want to do it.  But I don't know where to start, and I don't want to spend a ton of money on it.  What to do?
Spring cleaning checklist
Uh, maybe this is why I haven't spring cleaned before.  Looking at this list from Imperfect Homemaking, I am overwhelmed.  Who does this much cleaning on a regular basis?  Although I doubt I will tackle even half of the list, I think I can get through part of it.  I like her tips on how to clean mini blinds.  Some of mine have never really been cleaned. If you're looking for more great tips on all types of cleaning, check out this article from Canadian Living.
Also be sure to consider which cleaning products you use, as there are lots of natural options available.  Check out Eva's article on how to be a frugal organic cleaner.  I have recently discovered the wonders of cleaning with baking soda, as my loving husband recently purchased a 6 pack from Costco by accident (I had requested he purchase baking powder instead).  If you prefer to purchase cleaning products, be sure to check out Greenworks cleaners.  They often go on sale, and if you combine a sale with coupons, you can often buy Greenworks cleaners for $1 per bottle.  A few years ago Greenworks had an amazing coupon available, buy 3, save $4.  When they went on sale one week at Shoppers Drug Mart for $1.99 per bottle, I picked up about 30 bottles at around $0.75 per bottle.  They have lasted over the past few years.
Spring home maintenance
Honestly, this is another area my family has not been proficient in.  I know the basics of what to do each spring like changing the filter on our furnace, getting our air conditioner inspected, etc.  But there are other home maintenance tasks which I'm just not sure are required - things like gutter cleaning and vent cleaning.  Are they worth the expense?  Bob Vila says it's important to clean your gutters twice per year.  He suggests that if you want to do it yourself you'll need a tall ladder, gloves, a face mask, and I would personally need a safety person under the ladder and lots of prayers.  As important as regular home maintenance is the treatment of issues before they escalate to larger problems.  This HGTV article outlines some important tips for preventative spring maintenance.  There are tips I hadn't even thought of, like examining any wood trim to check for damage and to repair these before the spring rains come.  Doing a thorough once around your house to check for issues is a great (free!) idea, and is something I will definitely be doing this spring.
Spring clean your garden
I have coworkers and friends who spend money every single month on their garden and outdoor needs.  One friend hires gardeners each spring to ready her backyard gardens.  She hires a team of 3 people there for an entire day to ready her gardens.  She estimates that this costs her around $300.  She brings them back from time to time through the summer to weed her garden.  Being the frugal Bargainmooser that I am, I cringe at the prospect of paying money for gardening.  I know the more effort I put into gardening at the beginning of the season means the easier my gardening and weeding will be through the summer.  This summer I plan to make some changes to my gardens, as they are full English gardens which I do not love, but they came with our house.   This excellent article on gardening.com outlines some great spring gardening tips.  I will definitely employ the tips on dividing and transplanting, as my garden is overgrown with hostas.  Anyone want some free hostas?  Mulch is something we wrestle with each year, and we have never bitten the bullet to buy it.  We have a large number of square feet of gardens, and to cover it all in an appropriate amount of mulch would cost us about $500.  I am second guessing our decision this year, as each weekend last summer was full of weeding and getting my hands dirty.  So not fun for me.
Spring cleaning and maintenance is an essential part of home ownership.  I am planning on staying at this house until we retire, so we need to take very good care of it so that it lasts.  I am not a handy-woman, and my husband isn't handy either, so we need to ensure that we set aside a budget each year for any repairs and preventative measures we need to take for our home maintenance.  Bargainmoosers, what are your top frugal spring cleaning tips?
Photo credit: Chiot's Run