Mabel's Labels Celebrates Earth Day with 50% Off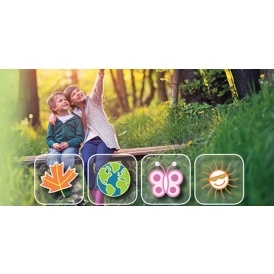 Have you ever gone into your child's classroom and noticed that many students have the same (or similar) water bottles? That's fine... until you watch a child pick up someone else's water bottle by mistake and drink from it.
Mabel's Labels are durable because they are waterproof, dishwasher safe and microwaveable, too! I wish I had these when my daughter was younger. Someone once took her boots from school, thinking they were theirs. If we had these labels instead of the (not-so-sticky) plain white stick-on labels you can buy in a stationary store I bet her boots wouldn't have been taken because the label at the top inside of the boots would have been visible.

To celebrate Earth Day, Mabel's Labels is offering 50% off of four varieties of labels. The labels follow an Earth Day theme. You can select an Earth, Butterfly, Leaf, or Sun. There are 45 labels in each package. They are regularly priced at $21 but are on sale for $10. 50 and free shipping is included! That's only 23 cents each.
But that's not all! We also have an exclusive Bargainmoose code that you can apply for an extra 10% off your order—enter MOOSE10 at checkout.
At this price, don't forget to buy enough for your books, insides of tablets, iPad cases, etc. You can fit up to 20 characters on your labels and select a font style that you like.
These labels are great to use inside of luggage if you have a phone number printed on them, because they stick so well. When we go on holidays, I label everything and these are going to be just perfect!
The 50% off sale price is available until Sunday, April 24th at midnight.