Awesome Parenting Quote Mugs @ Etsy.ca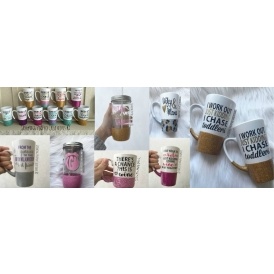 I had to have one of these mugs. I may need to buy another, actually. I found this shop on Etsy.ca and they carry quite a variety of drinkware items with cute quotes like "I work out—just kidding. I chase toddlers!" or "I can't adult today." They can come with glitter on the bottom of the mug or tumbler, and I fell in love with these items almost instantly. I bet you will too! The shop is called Growing Peapod Creations, and their inventory definitely targets us moms. The prices start at $6 but these would make excellent gifts, or a great item to spoil yourself with - you know you deserve it.
The Growing Peapod Creations Shop has over 85 items available to browse, and all of the items are a lot of fun. I am mostly interested in the to-go cups but you can even get wine glasses, coffee mugs monogram decals and more.
If you want a perfect description of how I feel most nights, then check out this wine glass. On the front it has "Wine, Netflix & Yoga Pants" printed in a cute font, and I could easily sip my favourite "grape juice" from this cup while watching my chick flicks. This glass is $19.50 - and there are others with some pretty fun quotes too.
I actually just spit out a bit of my "grape juice" when I found this 50 Shades of Dark Circles Under My Eyes Mason Jar Tumbler. I have to have this for $21.50—especially for when Boxing Day rolls around. If you have kids then you know the 50 shades of dark circles all too well. You may also need this "There's a Chance This is Wine" Glitter Mug which is the same price.
Shipping looks like it may vary a bit. For me, shipping is $12.50 but is reduced for the additional items I add to my shopping cart. So why not team up with a friend and pitch in for the shipping costs? If you love these mugs and tumblers, they will too.
Moosers, which mug is your fav?

(Expiry: Hopefully never!)