Coleman 5-Piece Cooler Combo $39.99 @ Cabela's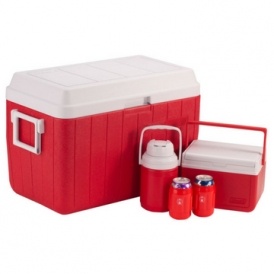 You might not make another camping trip this year, but bonfire season is just beginning! Before you head out to the lake or a family party, you'll want to pick up one of these Coleman 5-Piece Cooler Combos, on sale at Cabela's for $39.99, down from $84.99!
With this set, you'll be ready for pretty much any occasion – whether you're planning a quiet picnic in the park, a weekend camping trip or a full-on beach bash.
This 5-Piece Cooler Combo includes:
54-Quart Performance Cooler
5-Quart FlipLid Cooler
1/3 Gallon Beverage Cooler
2x Can Holders
The highlight of the set is definitely the 54-Quart Performance Cooler. It can hold up to 63 cans and keep ice frozen for up to three days in temperatures as high as 32C. And since a 48-Quart Chest Cooler costs $39.99 at Coleman Canada alone, you're definitely getting a great deal!
You can use the code FALLDAYS at checkout for free shipping on orders over $99 or ship your order to a Cabela's store for free.