3-Tiered Beverage Dispenser $40 @ Canadian Tire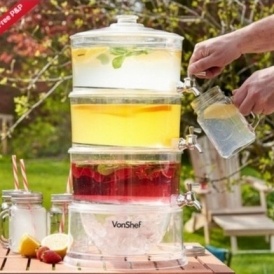 I can't make up my mind whether I want to put lemonade, iced tea, and fruit punch - or Mike's Hard Lemonade, Sangrias, and Margaritas into this trending 3- tiered beverage dispenser! If I choose the latter, the kids will just have to be thrilled with jumbo Mr. Freeze Freezies, as kids have been for years.
This dispenser will be the centre of entertainment all summer long when you have guests over for backyard BBQ parties. Place a bluetooth speaker on top, and party like it's 1984! (I have a penchant for all things 80's.)
This would be an ideal dispenser at a kids birthday party, too, filled with fruit juice, fruit punch and maybe some water with freshly cut fruit such as strawberries and limes in the center beverage container.
This dispenser has 3 different beverage bins, is BPA free, and also has a compartment underneath to place ice into, to keep your bevvies cool! It also carries a 1 year exchange warranty redeemable at any Canadian Tire store. The price on this item is $39.99. It's priced at regular price, but is a terrific price on a product such as this and may sell out quickly because it will be a unique hot summer buy, literally and figuratively.
I love that Canadian Tire allows you to place an order online for in-store pickup, and it's usually ready within several hours. This saves time and money - time from trudging through all of the long aisles, playing hide and seek with the item you are looking for, and money, from finding things you don't need but really want to buy because they are on sale for such a good price. Not all Canadian Tire locations will have this beverage dispenser in stock, but hopefully you will be able to get your hands on one!
(Deal expiry: Unknown)