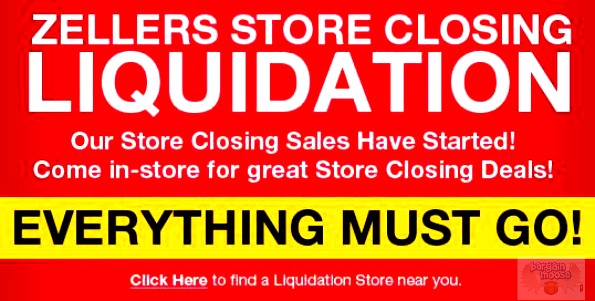 Zellers Canada has started their store closing liquidation sales.  They are selling absolutely everything at many of their stores so there should be some good deals.  These sales are all in store only and will vary from store to store.
Here is the fine print:
All sales final. All flyer offers, Price Match guarantee, Kidurable guarantee, Rain Checks, Senior's Days, SPC Cards and HBC Promotions are not available.
From the list of stores it looks like all Zellers Canada stores except for a select few have started their closing down sales.  The select few that haven't started yet, will be starting 26th March 2012.  All Zellers Canada stores will be eventually turning into either Target or Walmart so they need to get rid of the stock that they have.
Along with these deals there are a couple of extra deals to take advantage of.  For example, this weekend only until 18th March 2012, use your HBC credit card or HBC Mastercard on your purchases and save an additional 10%.
You can also get a $5 printable coupon to use on anything in store when you spend $35 or more by going to the Zellers Facebook page and leaving a comment about your favorite memory. You will also get a chance to win $250 by doing this.
Lastly, Zellers Canada has many games on liquidation for just $14.99, use this Hasbro coupon and save an additional $5 making these games just $9.99.
Like I said there will be different deals at different Zellers Canada locations depending on the stock that they have.  They are still accepting all coupons so take advantage of some of their low prices.