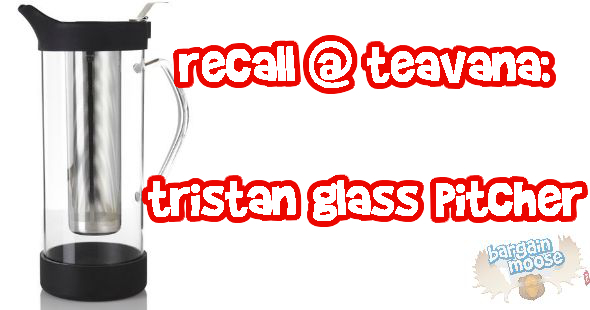 Teavana Canada has voluntarily announced the recall of their popular Tristan Glass Pitcher. The Tristan Glass Pitcher only comes in one model, and has been known to break or leak. This can cause burns or lacerations among other hazards - nobody wants that.
The popular Tristan Glass Pitcher from Teavana Canada seems to pose as a threat to Canadians, and that is why the product has been recalled. There have been cases of burns and cuts from the pitcher not being designed properly. This recall included the 64 ounce Tristan Glass Pitcher that is designed for hot or cold tea. They are easy to point out. They will have a glass handle as well as a stainless steel infuser. The base and lid are constructed with a black, flexible silicone.
So essentially, consumers have been using this Teavana product for both hot and cold liquids since that is what it has been designed for. Unfortunately when some people have used the Tristan Glass Pitcher for hot liquids, the pitcher has either leaked or broken apart and has ended up burning or cutting the user. So far nobody in Canada has been hurt, but there have been over 50 reports of the pitcher breaking or leaking. Within these 50 reports, there have been 3 reports of lacerations and two reports of minor burns.
There have been over 4,400 of these Tristan Glass Pitchers sold in Canada and 52,400 of them sold in the United States. Quite a number of people have been affected by this recall. It is said that consumers should immediately stop using these recalled glass brewers from Teavana. You can return the Tristan Glass Pitcher to Teavana and choose between one of the following two options:
free replacement Infusion Tea Pitcher plus a $25 Teavana Canada gift card
OR
a Teavana Canada gift card for the purchase price of the recalled pitcher
It is simple to deal with this Teavana recall. Just follow the link provided above and voila! It is too bad, because so far I have loved every item I have purchased from Teavana Canada but this might scare me off a little bit.
Moosers, do you own the Tristan Glass Pitcher from Teavana Canada?