The Old Navy $1 Flip Flop Sale is Back This Saturday!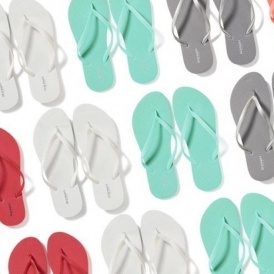 This is one of those sales we wait all year for, and it's only a few days away!
Old Navy Canada recently announced the return of their famous $1 Flip Flop Sale on their website, and it's this Saturday!
On Saturday, June 23, 2018, Old Navy stores across the country will open their doors at 7 AM, so you can stock up on flip flops.
If you've never been to the Old Navy Flip Flop Sale before, trust me, you'll want to have a game plan going in. Select solid-colour flip flops for the whole family are marked down to just $1 a pair, and they tend to go fast.
You're limited to 10 pairs per customer, and it's usually worth grabbing as many as you can in your size. While these flips won't last forever, you can't argue with a stockpile for just $10!
You have a few more days until the sale, so I'd try to figure out your size before then. That way, you won't need to try anything on in the store on Saturday. You can just grab them and go!