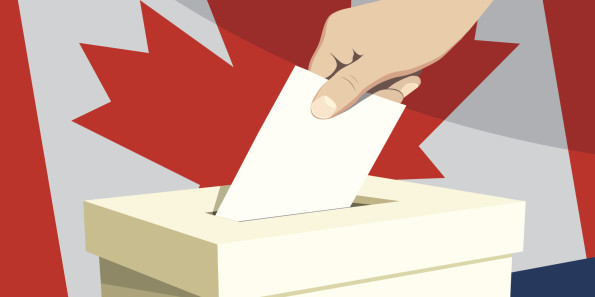 It's Election Day! Canada has just endured a grueling 78-day campaign that tried to woo voters to vote for a certain direction for their future. Today there are polling stations across the country open for you to voice your opinion on an anonymous ballot. But will you vote? There are over 26.4 million eligible electors in Canada and I definitely casted my ballot earlier today. Today's election is supposed to have the highest turnout ever, are you voting?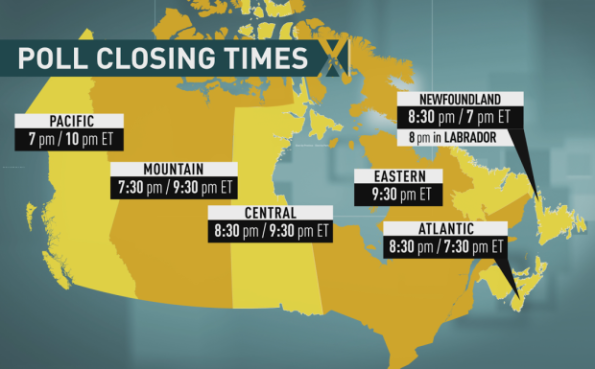 In total this year there are approximately 66,000 polling stations and 20,000 polling places stretched out over our six different time zones. For the most part the stations are open pretty late, so if you have not voted yet then you may want to grab your Voter's card and scurry out to do so. After all, your opinion does count. Just look for the large yellow circle with the black arrow that says "vote" all around it.  Your Voter's Card should also have a location listed for you. My location was actually a school that is within walking distance. Even as a 23 year old, this is the first year I have voted. There seems to have been more of a hype this year than ever before.
Do you know if you are a registered voter? If you are not quite sure, you can check out Elections.ca to register at the polls. You can even print a registration certificate to make the situation a little quicker.
But what could voting change for us? How could this benefit our families, or how could this benefit us as parents? What are the parties promising?
Conservative: 
Economy: Economic strategy that is based on low taxes, connecting Canadians with employment, opening new markets and businesses.
Infrastructure: Provide long-term and reliable federal funding for cities and communities to rebuild or build bridges, transit, roads and more.
Environment: This party favours sector-by-sector regulations that are intended to cut greenhouse gas emissions in Canada. They also want to work on climate change from all major emitters
Security and Anti Terrorism: They want to work on tougher security policies in regards to ISIS and other arising threats.
Social Issues: This party wants to promote security, health and employment of Canadians.
Justice: This Conservative party wants to introduce a wider range of measures that will prevent crime, increase punishments for criminals and keep your communities safer.
NDP: 
Economy: Wants the federal government to do more to address economic shortcomings.
Infrastructure: Will work on increasing federal funding for Infrastructure projects.
Environment: Wants the federal government to do more to tackle global warning.
Security and Anti Terrorism: Says that the Conservative's way of responding to terrorism will threaten Canadian's civil liberties
Social Issues: This party wants to expand federal action to address the Social Issues
Justice: Aims to balance justice while still protecting the public
Liberal: 
Economy: Wants to focus on improving our standard of living as well as make the tax system a little more fair while also increasing financial support for middle class and low income earners.
Infrastructure: Wants to work on developing new sources of funding for Infrastructure projects.
Environment: Wants to tackle climate change by improving federal leadership.
Safety and Anti Terrorism: Wants to make tighter security measures for rising threats.
Social Issues: Wants to draw attention to a wide variety of different social issues.
Justice: Wants strong sentences for serious crimes, but says that sentencing alone will be an insufficient way of keeping our communities safe.
Green:
Economy: Wants to help Canadians adjust to climate change by putting more money into Environmentally friendly policies and also wants to boost the economy.
Infrastructure: Wants to overhaul the national decision making and create new ways to fund Infrastructure projects.
Environment: Wants Canada to more to the forefront of the global clean energy revolution.
Security and Anti Terrorism: Wants more oversight of agencies that will help anti-terrorist activities.
Social Issues: Wants to develop ways to boost social housing and reduce the number of people who are homeless.
Justice: The Green Party always aims to legalize and regulate marijuana.
Each party promises tax relief of course, but we want the party that will help us as a family. When it comes to child care and other areas that we are interested in, who should get our vote?
Child Care:
Conservatives: The conservatives have increased the Universal Child Care Benefit to $160 per month for children under the age of six. It was previously $100, so that is a bonus for sure. They also added the new monthly benefit of getting $60 for children between the ages of six and seventeen, where we didn't get anything for that before. They also provide up to 18 months of job protection (maternity or paternity leave)
NDP: The NDP won't change a thing about the UCCB benefit increased, but they are promising a $15 per day national daycare program which sounds interesting to me, especially because day care can cost up to $70 per day depending on your location and how many hours your child stays in care.
Liberals: The liberals want to cut out the UCCB and bring in a new income-tested tax free monthly payment to all families that earn less than $150,000 per year.
So then the question remains, which party works out the best for your needs and your family's needs? You hear all the radio advertisements of certain parties bashing other parties and trying to put their name in the dirt - but have you sat and considered which party is actually the best option for your community, for your family, for your country? What a tough choice - right?!
So Moosers, that might give you a better idea of our parties to vote for!