Please read this before you finish whipping up that batch of baby food. A recall has been issued for Cusinart food processors after complaints of laceration due to breakage of the blades.
Cusinart is recalling 8 million food processors with riveted blades after dozens of complaints were received from people who found broken pieces of the blades in their food. There are 300,000 affected food processors in Canada.
The riveted blades can crack over time and small pieces of the blade may break off into the processed food which poses a laceration hazard. There have been two reports of mouth laceration or tooth injury in Canada.
The defective blades have four rivets located near the centre and are constructed from stainless steel. The blades are connected to a beige plastic center piece.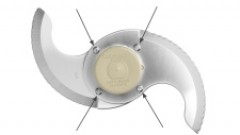 Health Canada, together with the U.S. Consumer Product Safety Commission, is advising consumers to immediately stop using the food processor's riveted blade. If you own an affected unit, you are advised to contact the company for a free replacement blade.
The affected models were sold between July 2996 and December 2015. The affected model numbers include:
CFP-9, CFP 11
DFP-7, DFP-11, DFP-14
DLC-5, DLC-7, DLC-8, DLC-10, DLC-XP, DLC-2007, DLC-2009, DLC-2011, DLC-2014, DLC-3011, DLC-3014
EV-7, EV-10, EV-11, EV-14
KFP-7
MP-14
Model numbers can be found on the bottom of the food processor near the Cuisinart logo.