L.L. Bean, Inc. of Freeport, Maine, U.S.A. is recalling thousands of children's water bottles due to lead content. The lead solder at the exterior base of the bottle contains high levels of lead because during the manufacturing process, the wrong type of solder was used by the manufacturer in China.

L.L. Bean has issued this statement on their website:
Routine testing by the manufacturer resulted in a positive reading for the presence of lead on the outside bottom of the bottle where the outer vacuum layer is sealed. It was determined that some of the water bottles provided to L.L.Bean were erroneously sealed on the bottom with a solder bead containing lead instead of the lead-free solder bead originally specified. This could potentially expose the user of the bottle to the lead seal on the outside bottom of the water bottle. For your child's safety, immediately stop using the water bottle and return the bottle to L.L.Bean.
6,700 water bottles were sold at L.L. bean both online and in store. The dates range from July 2015 until May 2016. There have been no illnesses reported in relation to this recall.

Canadians were able to order these online from L.L. Bean, or may have purchased them while visiting the USA. Please make sure you don't have these water bottles in your home, and alert anyone who you know may have them.
The recalled product is a 13.5 ounce children's insulated water bottle, with a label including identification number 297684 on the bottom of the bottle. On the stickers were codes "PO#844" and "BB2D2-LLB-R45-0413."
The bottles are easily recognized by the colourful patterns on them, as shown in these photos: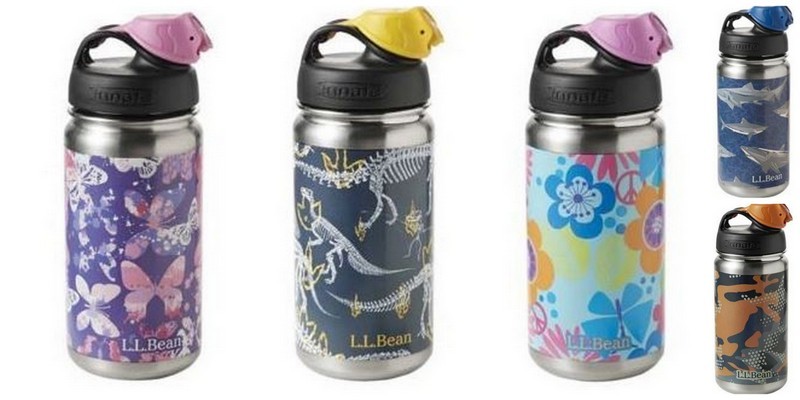 Dino Bones
Flower Power
Orange Grid Camo
Purple Tie Dye Butterfly
Robo Shark
If ingested, lead is toxic and can cause adverse health issues. "No safe blood lead level in children has been identified. Even low levels of lead in blood have been shown to affect IQ, ability to pay attention, and academic achievement. And effects of lead exposure cannot be corrected," according to the Centers for Disease Control and Prevention.
Consumers should immediately stop using the recalled water bottles and contact L.L.Bean for a full refund.If you have the affected product, please call L.L.Bean, Inc., at 1-800-555-9717 for return packaging and mailing instructions.