Update: The voluntary recall on CRF Frozen Foods of Washington has expanded, affecting a wider variety of frozen foods sold in locations in the USA and Canada. Products being recalled may have been purchased in all fifty U.S. states and the following Canadian Provinces: British Columbia, Alberta, Manitoba, Saskatchewan.Please read this complete list, and spread the word!
Click here to read the current CRF Frozen Foods of Washington that have affected some Canadian product as well.

--------------------------------------------------
After the discovery of Listeria monocytogenes found in one lot of Individually Quick Frozen (IQF) organic petite green peas and one lot of IQF organic white sweet cut corn in CRF Frozen Foods of Washington, a voluntary recall has been implemented as a safety precaution.
The recall appears to potentially affect Canadians who may have purchased this product who live in British Columbia, Alberta, Manitoba, and Saskatchewan, and it also affects numerous states in the U.S.A.
The reason for potential health concerns are listed in this link from the FDA: "Listeria can can cause serious and sometimes fatal infections in young children, frail or elderly people, and others with weakened immune systems. Although healthy individuals may suffer only short-term symptoms such as high fever, severe headache, stiffness, nausea, abdominal pain and diarrhea, listeria infection can cause miscarriages and stillbirths among pregnant women."

The following products have been recalled: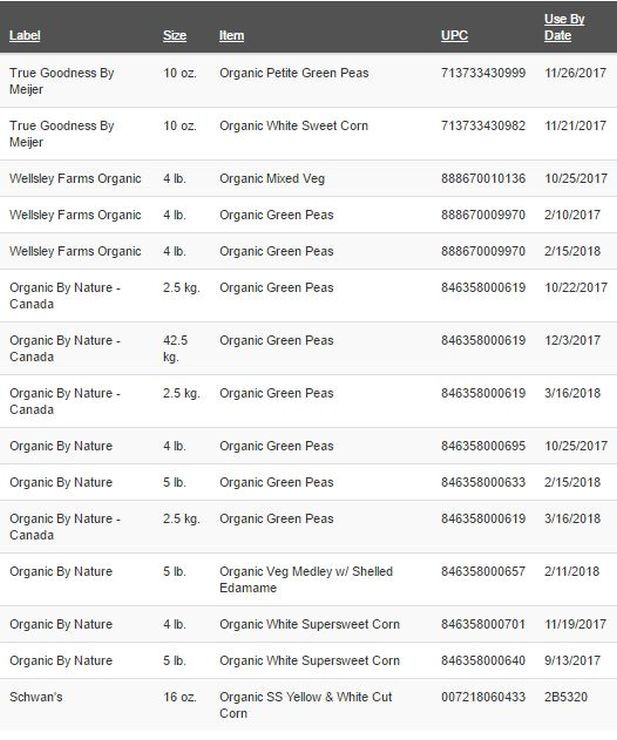 As mentioned in this link from the FDA, if you have this product in your home, the following recommendation is advised:
"Consumers are urged not to consume these products. Consumers who purchased these products may take them back to the store where they purchased them for a refund or simply discard them. Consumers seeking information may call 844.551.5595 Monday through Friday, 8:00 am to 5:00 pm Pacific Standard Time."
Do you know anyone that buys these frozen vegetables?