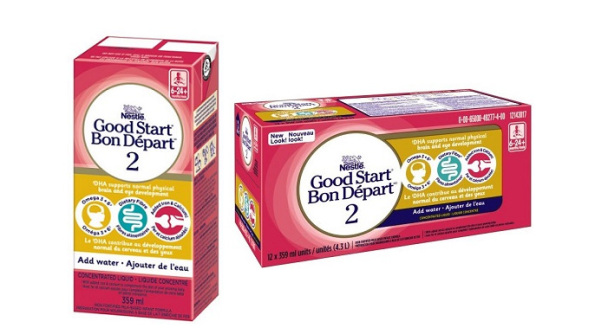 The expression better safe than sorry always applies when it comes to our kids! That's why all parents should be aware that Nestlé has recalled specific batches of the Nestlé Good Start 2 Concentrate 359ml Tetra with Omega. If you have been using this kind of formula, stop and check if your batch number is affected. It takes two minutes and could prevent your child from being sick.
You can check out the official recall warning on the Canadian Food Inspection agency, here. The infant formula has been recalled due to potentially reduced bioavailability of nutrients. Some illnesses have been reported but the Canadian Food Inspection Agency has not yet confirmed that the recalled product has directly caused these illnesses.
The Canadian Food Inspection agency has provided instructions as to what to do if you are in possession of a recalled batch of formula. They state that the formula should be thrown out, and that you should contact Nestlé Canada's Customer Service line (1-855-395-1238) to get a full refund.
Here are the batch codes of the affected products:
512857211A
512957211A
512957212A
513057211A
The case UPC number is 0-00-65000-49277-4.
Nestle has issued the following official statement:
The minerals in the formula may separate over time and appear as black particles in the concentrate. Consumption of the affected product could lead to lower intake of some nutrients, due to reduced bioavailability.



If you have any friends or family that may have this formula at home, be sure to pass along the message. Nestlé has issued the recall as a precaution but with the illnesses reported, this could end up being something more serious, since the recall was triggered by customer complaints.
Moosers, do you use Good Start Formula?