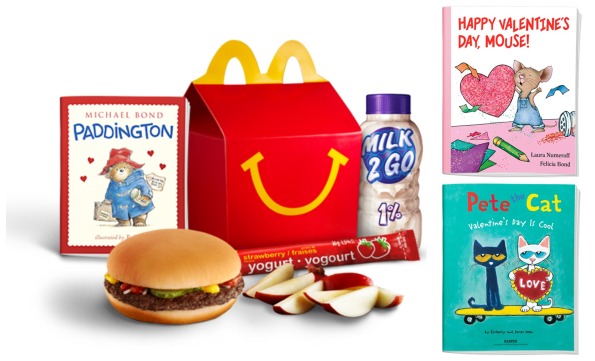 Exciting news for avid readers: McDonald's will be offering books instead of toys in their happy meal now through February 15th! This may be a welcomed change for parents trying to get their kids to read more. By the end of the giveaway, McDonald's will have given away more than 17 million book! This event is meant to promote literacy, as CEO of Reading is Fundamental stated:
"Reading Is Fundamental is pleased to partner with McDonald's again this year and provide much-needed books to children who have limited access to them. Books are the building blocks for a better future. They foster the imagination, expand our understanding of the world and fuel a lifelong love of learning. We're pleased McDonald's is helping millions of children discover the joy of reading."
McDonald's is making 4 books available in celebration of Valentine's Day. The classic children book Paddington is included in these fours books. The other three are Valentine's Day themed: Clark the Shark Takes Heart, Happy Valentine's Day, Mouse, Pete the Cat Valentine's Day Is Cool. These are all Harper Collins Children Books, and will also come with a Valentine's card.
What do you think Moosers? Should MacDonald's make this a permanent change?