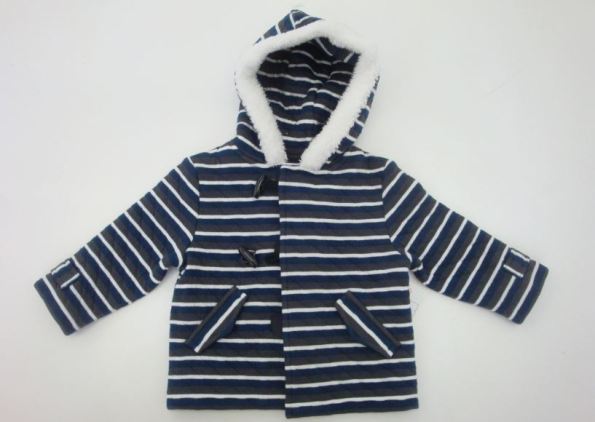 Stop! If your infant is wearing the Joe Fresh Striped Quilted Jacket they could be at risk! This Joe Fresh Infant's Jacket has been recalled due to a choking hazard. Who would have thought that we could be putting our child at risk by putting a warm coat on them. If you have purchased the Striped Infant Jacket from Joe Fresh or related stores, I suggest you stop using it right away and see if it is included in the recall or not.
On Friday Loblaw Companies Limited informed the public of a recall on their Joe Fresh Striped Quilted Baby Jacket with the style code BBF5OT4316. There is a button on the jacket that can be pulled off, and it poses a serious choking hazard. Joe Fresh has stated that they apologize for any concern that this recall may have caused, and that the health and safety of customers and children is their main priority.
Here is the list of stores that could have sold this product:
Dominion
Joe Fresh
Real Canadian Superstore
Real Canadian Wholesale Club
Fortinos
Loblaws
Maxi & Cie
nofrills
Provigo
Your Independent Grocer
Zehrs
JoeFresh.com
So far there has only been one case where the child has pulled off the button and put it in their mouth, but no harm has been reported as yet. It is better to be safe than sorry though, especially when it comes to our little ones and their safety. So far all of the jackets have been removed from store shelves and you are prompted to return the jacket to your local Joe Fresh Canada store as soon as possible to get an exchange or refund. The jackets had started to be sold at Joe Fresh locations on September 1st, so check your receipts and jacket tags to make sure that your little one isn't at risk of choking.
Who would have thought that we would have to watch children's clothing for issues like this? Moosers, do you or anyone you know own this Joe Fresh Quilted Jacket for their little ones? Inform them of this recall if so.