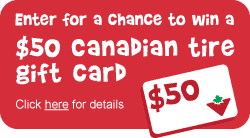 (EXPIRED)
It's time we had another little give-away on BargainMoose! This time I'm going to give you guys the chance to win a $50Canadian Tire gift card, totally for free!
I can think of plenty of things I'd like to spend the $50 on… but I'll be generous and pass this $50 prize on to you, my loyal readers.
How to enter contest:
You can win the $50 Canadian Tire gift card by subscribing to my BargainMoose daily email updates. If you are already subscribed, don't worry, you will be automatically entered into the contest. (Remember, you must click the email verification link once you sign up, in order to be eligible)
If you'd like to gain an extra entry, post a comment below – double your chances of winning!!
If you would like to take this one step further, tweet the link to this contest on twitter – triple your chances of winning!!! Just be sure to post the link to your tweet/twitterfeed in my comments below, so I can keep track of your entries. Remember, you can follow me on twitter while you're at it.
Good luck everyone! :)
* Contest open to Canadian residents only, ends 30th May 2009.
UPDATE: Winner announced in here!