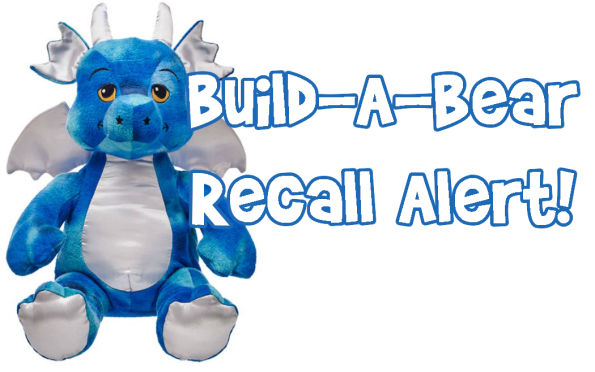 Do you have a Starbrights Dragon Build-A-Bear within your household? Quick, read this recall and make sure that your adorable stuffed animal is safe for the kids to play with. Build-A-Bear Workshop has issued a recall on the Starbrights Dragon stuffed animal, and for good reason.
Have you seen the new Starbrights Dragon from Build-A-Bear? I almost bought this stuffed toy a couple weeks ago but for whatever reason I didn't. I am glad that I didn't now, since the popular stuffy has been recalled. Build-A-Bear Workshop has voluntarily recalled the Starbrights Dragon stuffed animal as of Thursday, October 22nd and if you have this adorable guy sitting on your shelf, you will want to keep reading.
This particular stuffed animal had passed all the safety testing, but unfortunately the Starbrights Dragon is made of a gorgeous satin material that just couldn't hold up at the seam on the middle section of the dragon. Once the seem let go, stuffing comes out and I am sure that can be quite traumatizing and dangerous for young children. Infants or toddlers may try to ingest the stuffing, and that would be an all around bad situation.
There were 33,600 of these Starbrights Dragon stuffed animals from Build-A-Bear recalled. So far about 1,000 of them in Canada have been affected by this horrible weak seam. If you bought your kids a Starbrights Dragon Build-A-Bear between April 2015 and August 2015, then your stuffed doll may very well be affected. Consumers should return their Starbrights Dragon to their local Build-A-Bear store to get a refund or replacement.
While there have been no reports of anyone being harmed due to this recall, it is better to be safe than sorry. For a $25 dollar bear, you really don't want to deal with issues like this. At least the stuffed dragon is just leaking stuffing, and not secrets. :) I used to tell my stuffed animals all my secrets.
Moosers, does this recall affect anyone you know?