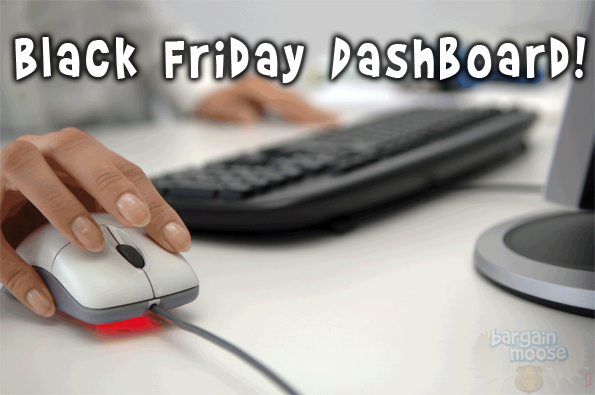 This Friday the 23rd of November 2012 is Black Friday in Canada! And we're already starting to see the online marketplace really heat up with offers starting from many popular Canadian stores. Using our deal and coupon forums, we're compiling all the offers for you to see - and we've created a special Black Friday dashboard for you to browse all the offers at a glance!.
You'll see that it's up on a tab in the header of Bargainmoose too, so you can easily access it any time you are on site over the next few days.
You can see details of the sales that have already started, and some upcoming hints about sales which are starting over the next few days. Now, we just don't have enough space on the Bargainmoose blog to write about absolutely everything, we've got to be more selective as to what we blog up. But there on the Bargainmoose Black Friday dashboard, you can browse ALL the offers at your leisure!
We'll be adding more and more deals over the next few days, so be sure to check back often. It's the perfect opportunity to stock up on Christmas gifts that won't break the bank.
P.S. If you've spotted a hot bargain yourself, why not pop it up on the forums? Let all the moosers know about the deal. :) Make sure and put "Black Friday" in the title and it will automatically be added to our Black Friday dashboard. Happy shopping - and thanks for your help in finding the best deals!