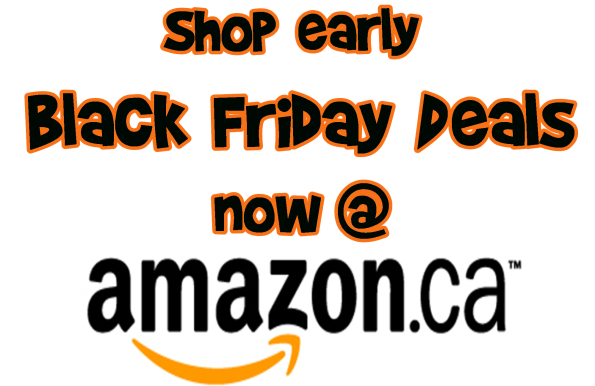 Oh my goodness. Moosers, do you know what's coming up? Black Friday! We are so excited to share tons of awesome deals and promotions with you over the course of Black Friday and Cyber Monday. Amazon.ca has already started their countdown to Black Friday. There are only 25 days to go and Amazon Canada is known for launching their Black Friday Deals Store early.
I think Black Friday & Cyber Monday were designed to help people get good discounts in time for Christmas. At least that is what I use the insane savings for. Don't you? If you are looking to save some money on a huge selection of gift for everyone. Amazon Canada will have deals on TVs, laptops tech, cell phones, video games, cameras, computers, iPads, baby products, toys, beauty items, and so much more during the Black Friday fiasco. That includes their Countdown To Black Friday Deals and their actual Black Friday deals. Both have me so excited!
So starting today, Amazon.ca customers can get a head start on Canadian Black Friday discounts and deals. There are going to be thousands of different products that get their price reduced during this Black Friday Countdown, so keep your eyes peeled and get some Christmas shopping done. We do have a sneak peek at the deals to come, but beware of price inflations of course.
Here is a sneak peek some of the discounts shoppers can get at Amazon Canada during their Black Friday Deals Week:
Fashion & Jewellery:
70% off select Timex Watches
60% off select Citizen Eco Drive Men's and Women's Watches
30% off premium denim from brands like 7 For All Mankind, Mavi, True Religion, Joe's Jeans and Lucky Brand
Entertainment:
67% off The Wire: The Complete Series
Pet & Household Items:
60% off select PetSafe items
50% off Breville 840XL Infuser Espresso Machines
30% off Black & Decker 20 Volt Max Lithium Pivot Vacuum
Toys:
40% off Play All Day Sesame Street Elmo
40% off select Nerf toys
40% off SKLZ Mini Hoop
Electronics:
52% off Sennheiser RS120 Wireless Headphones
Be sure to keep your eyes on the "Deal of the Day" items though. These are Lightning Deals that will only be valid for 24 hours, or while supplies last. As we get closer to Black Friday you may notice that the period of time that the deals are available will get shorter. You can tell which items are popular because they are already close to being sold out for the day! Just be sure to do your research and make sure you're getting the best price around because Amazon.ca tends to inflate their regular price to make the sale price look hotter.
If you are looking for Christmas gifts for the kids, today I noticed up to 65% off select Crayola items. Crayola never gets old and provides hours of fun for kids of all ages. Heck, even I enjoy colouring with my kiddos. They also have the popular Magna-Tiles 33 Piece Set with Connection Guide on sale today for 30% off. That means you can snag this kit for $41.65 rather than the original price which was $59.50. That is definitely the lowest price around for this item. There are way too many items to list here, so have a good browse around the Amazon.ca Black Friday Deals Store to see what you can get your hands on.
Amazon.ca is also celebrating the Black Friday Deals Store by introducing Prime Early Access for Prime Members. That means that Prime Members will get a 30-minute early access to daily Lightning Deals on the Amazon Canada website. That's a big deal, considering Amazon.ca had some of the hottest prices around on many popular items last Black Friday. It also looks like Prime members will get 30% off select jewellery from trending brands like Kenneth Cole, Anne Klein, Nine West and more until this Sunday (November 8th). While Amazon Canada usually offers free shipping on orders over $25, Amazon Prime members get free shipping with no minimum spend. Just something to consider! I personally think the Amazon Prime membership is worth the money, but I may be bias. I love shopping at Amazon.ca for sure.
If you are starting your Christmas shopping, then you may want to check out the Amazon Canada Electronics Gift Guide. This guide is great for parents who are not all that knowledgeable about what is out there and need a hint at what to buy for the kids. The hottest and latest products this season will all be found here for sure.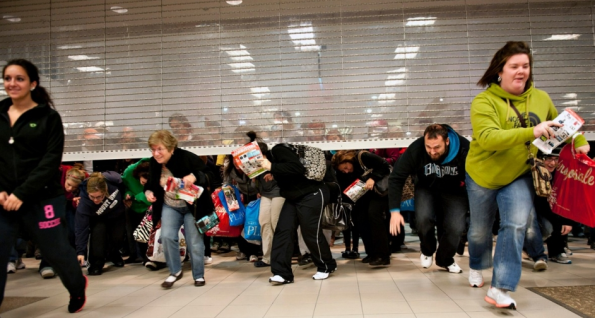 P.s. - This photo was taken at a Sears store when they opened for their Black Friday sales!
(Expiry: 30th November 2015)