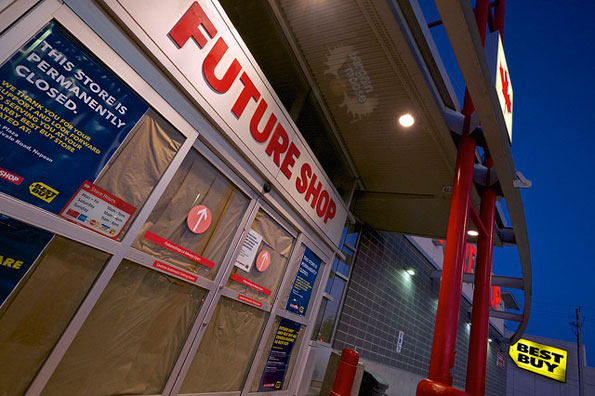 On Saturday, countless Future Shop employees got a huge shock upon heading over for their daily shifts. Instead of open doors, they were faced with signs labelled: "this store is permanently closed" as most Future Shop stores will be re-branded as Best Buy. Future Shop's website is currently no more but all pending orders will be executed regardless.
Back in 2001, Best Buy, a store that we have all come to love and shop at, bought Future Shop. It would have made sense to convert all Future Shop stores to Best Buy ones back then but for some reason, it took nearly 15 years to do so! In fact, 65 Future Shop stores are set to re-open as Best Buy ones within a week with the goal of improving business.
With Target in the midst of withdrawing from Canada, the sudden closing of another major store is definitely major news but what is shocking though isn't so much that most Future Shop will officially and finally be switching to Best Buy ones, a move that makes sense considering that for a while, nearly all deals and sales have been identical at both stores, but it's the fact that 500 full-times and as many as 1,000 part-time jobs will be lost as a result.
Although some of the Future Shop stores will simply be converted to Best Buy stores, a restructuring effort that is set to cost up to 350-million dollars, other Future Shop stores that are just in too close proximity to a Best Buy store, will simply be closed. No word either on what will happen to those locations.
Moosers, how will this affect you? Do you know someone who will be losing their job?
(Image Credit: Jamie McCaffrey)