iTunes: Beatles Albums Starting at $9.99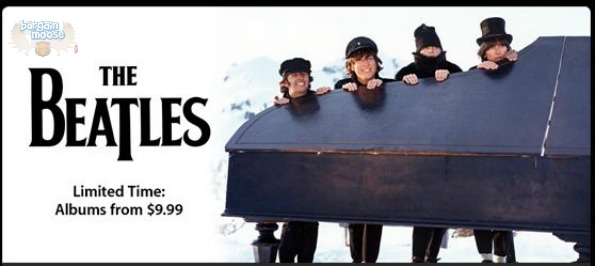 Any Beatles fans in the crowd? iTunes has discounted the Beatles studio albums and more to start at just $9.99! Many of the compilations are just $9.99 as well!
That link above should automatically open up in your iTunes.
I'm not the biggest Beatles fan, but I do own the "1" Beatles compilation album with 27 songs on it! This album is on sale for $9.99 right now.  Here are some of the other albums you might recognize:
Abbey Road
Sgt. Pepper's Lonely Hearts Club Band
Magical Mystery Tour
Revolver
Let It Be
All of those are only $9.99 each.
However, if you are looking to collect a lot more than just individual disks - you might want to check out the stellar prices on the anthology disks. Anthology 1 (61 songs) Anthology 2 (46 songs) and Anthology 3 (51 songs) are each only $19.99.
Some great music at great prices. Leave a Moose vote if you love the Beatles!
Expiry: Unknown