Ticketmaster Coupon Code: 2 for 1 Tickets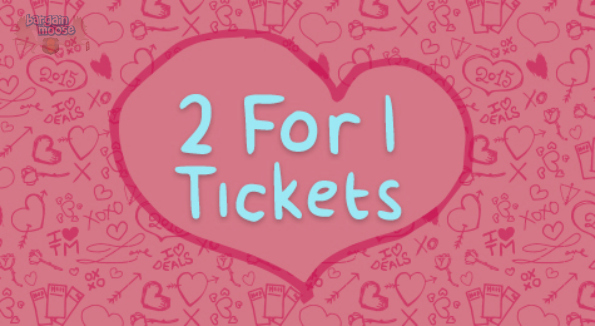 Ticketmaster has a special Valentine's Day coupon code to score two tickets for the price of one! There are over 50 shows just in Canada to choose from so get your tickets now - they will probably sell out fast.
Click here to buy 2 for 1 tickets @ Ticketmaster Canada now
Coupon Code: TMN241
Discount: 2 tickets for the price of 1
Expiry: Unknown
There are some real gems here. Nickelback is on tour with stops in Toronto, Winnipeg, Saskatoon, and Vancouver. I was just looking at tickets for the Nickelback: No Fixed Address Tour when it hits Rogers Arena in Vancouver. I actually enjoy Nickelback, especially their early stuff. Chad has an amazing voice and their talent is obvious from the success they continue to have. I know haters are going to hate (and I have seen a lot of Canadian hate for our own success stories), but I am a lover of Nickelback.
Do you have a little taste for nostalgia? There are plenty of bands I know and love that were popular in my father's younger years. ZZ Top is coming to Hamilton and Tom Cochrane is stopping in many cities including Toronto.
If you are looking for family fun, then consider tickets for Disney On Ice : Passport To Adventure or the mythical The Harlem Globetrotters (coming to PE!). Both of these are family friendly shows that will be fun for kids and adults alike. While not quite Disney on Ice, I did see Stars on Ice many years ago - it was terrific.
If you are travelling down to our southern friends, there are 500 qualifying shows in the United States! Why not book a show while you are down there and have yourself a grand old time.
Now, you must enter the coupon code on the map page (as shown below):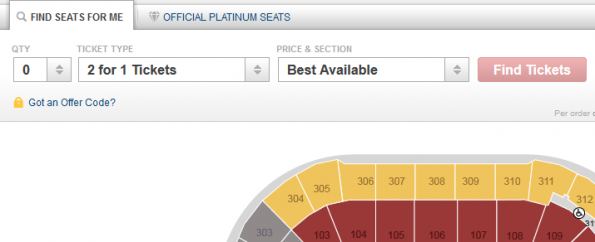 See that little thing that says "got an offer code?" - click that. Then enter your code. Not all types of tickets qualify for this offer. So, while I can still get pretty good seats at the Nickelback concert, I cannot use this promotion for floor seats.
There will be various seat limitations on most concerts and shows. Thus, you need to make sure the "2 for 1 Tickets" header shows up in your ticket type. This is still a pretty awesome deal as I can get two tickets to Nickelback for just shy of $65.
For this and future Ticketmaster coupon codes, visit our forum.