Steam Powered: Huge Summer Sale On Games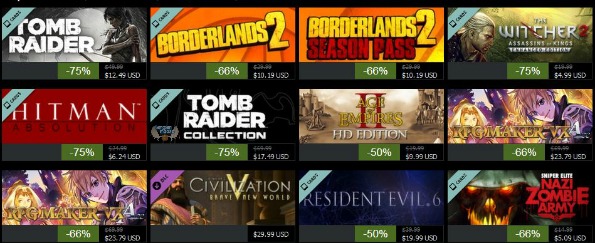 Steam Powered is hosting a huge summer getaway sale with mega savings on big time games!
There are sales that last through the entire length of the sale, and then there are daily deals that are only on for - you guessed it - one day. There are also flash sales which last for just eight hours!
One of the one day deals today is 66% off Might and Magic Heroes VI Gold. Originally $29.99 USD, it is on sale for $10.19 USD. My husband and I have played Heroes of Might and Magic V and have been watching for VI to drop in price. We were considering buying it yesterday but are so glad we didn't, because instead of getting it for 33% off, we just got it for 66% off! Totally stoked to get a new game to play. Hours of entertainment (weeks!) for just over $10.
If you want up to 75% off games, you need to catch them in a daily deal. Other than that you can still save up to 50% off games, which is still absolutely fabulous.
All prices are in USD. Steam Powered requires you have Steam installed to play the games. Individual deals will end at different times.
(Expiry: Sale ends 22nd July 2013)