Sony Canada: Buy A 4K Television And Get A Free PS4 Last Of Us Bundle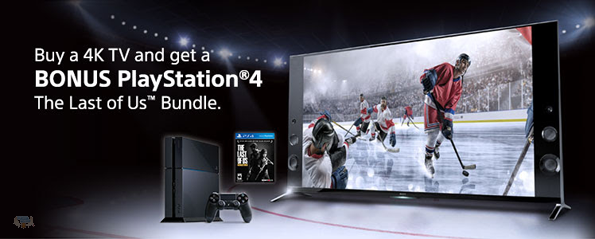 One of the first things that gamers will do when they get a brand spanking new TV is - you guessed it, they'll hook up a video game system to it. With today's deal from Sony, whether you're a video game fan or not, you'll be able to do just that! For a limited time, when you purchase a 4K TV from Sony, you'll also get a free Playstation 4 System with The Last Of Us Remastered! You'll also qualify for free shipping. If you're in the market for these newer luxury television sets, it never hurts to get a free PS4 system bundle with it!
4K televisions are the next big thing. They literally have to be seen to be believed! The detail that you can see in the screen of a 4K TV is so intricate, it's incredible! Even seeing a delicious food dish on a 4K television screen will make your mouth water - the picture is that crisp and clear!
One of the cheapest 4K TVs that you can currently get from The Sony Store is the 49" X850B 4K Ultra HD TV, which is currently on sale for $2099.99 (the regular price is $2299.99). Add in the PS4 Last Of Us bundle (a $449.99 value), and you`d be saving a total of $649.99 - it`s a great bonus for such a big purchase.
I first saw a 4K TV demo at a Best Buy location half a year ago, and it still amazes me. I'm trying my best not to exaggerate, but if you have a chance to see one that's on display at a retail location like Future Shop or Best Buy, I think you'll be very impressed with the picture quality on them.
At this time, they're still pretty pricey, but 4K TVs are still relatively new to the market. At Future Shop, a similar 49 inch Sony 4K TV is currently on sale for $1999.99 ($500 off), while another one is $2129.80 on Amazon. Listed below is a snippet of a review of the 49" X850B 4K Ultra HD TV from a satisfied Sony Store customer:
The colours are bright, motion is smooth, blacks are deep, and I have yet to see an artifact that isn't the result of Internet streaming. The 4K is very impressive. There isn't a ton of 4K content out there, but from what I have been able to watch on this unit (a few Netflix shows), this TV handles 4K wonderfully.
For a new and exciting TV experience, perhaps a 4K TV would best suit your needs. If you don`t have the funds for it now, there`s always Boxing Day! Here's to a great weekend, Bargainmoosers! Happy hunting!
(Expiry: Unknown)