Rango: $5 Off Blu-Ray or DVD Printable Coupon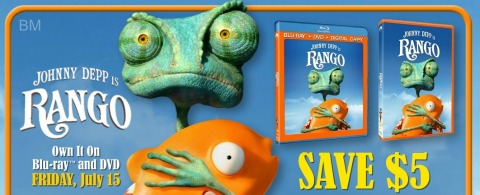 If you are planning on buying that new movie with Johnny Depp in it, Rango, be sure to pick up this coupon. You will get $5 off either the Blu-Ray or DVD version of the movie.
The coupon is only up through the 23rd, July 2011 so act quick before it is gone.
I have not seen Rango yet, have any of our Moosers? I would like to know if it is any good. The ads leave me somewhat skeptical.
In the past Blockbuster has been really good about accepting these types of coupons. If you have success elsewhere drop us a comment!
For the Canadian coupon: When you click through the link above - at the bottom left hand side it has a Canadian flag and says english or french.. Click your desired language to get the Canadian version of the coupon. Do NOT use the big 'click to get coupon' button.