Kobo Books Canada: FREE $5 Credit for New Customers, Books From $0.99, B2G1 Free Books & More!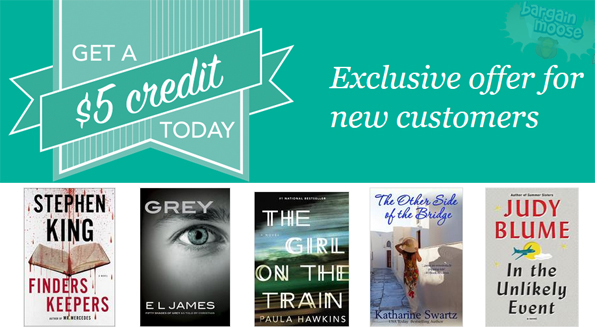 Kobo Books, the online eReading store, has been mentioned many times here on Bargainmoose. However, I am sure there are some of you Moosers out there who have not yet shopped from them. If that applies to you, then now is a good time to sign up – because new customers can get a free $5 credit on their account!
You must sign up on the above landing page. Your free $5 credit should appear in your Kobo account within 30 minutes, at which time you will be ready to buy your first eBook from them!
You can read using the Kobo app on a plethora of devices; you don't necessarily need a Kobo eReader device to make use of it. For example, I read Kobo books using my iPad – it's very handy.
There are a ton of eBooks on Kobo which are only a couple of dollars each – meaning you can actually score some free eBooks using your free $5 credit. Check out the great reads from $0.99 section for those.
Kobo has a special offer happening just now which you should be able to combine with the free $5 credit. The offer is buy 2 get 1 free on select eBooks here.
Some other examples in the buy 2 get 1 free offer:
Lots to choose from in there! But just as a rough example, if you are a new customer taking advantage of the free $5 credit and buying the first three books in the above list, you'd be getting all three for $20.18 in total. Example cart: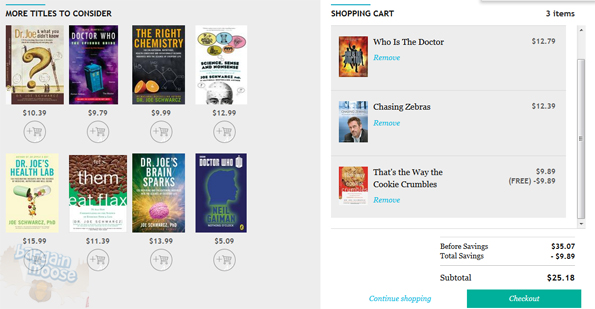 (The above cart doesn't yet have the $5 free credit deducted, but you will see this as you checkout).
One book that I have read in this B2G1F selection is Chai Tea Sunday by Heather A. Clark. This book received quite a bit of coverage in the national media, when it was released a couple of years ago. It's quite a short book, but then again, I am a fast reader and I'd devour a book if it interests me. Have your box of Kleenex at the ready if you read Chai Tea Sunday – it got my eye ducts a-flowing!
(Expires: 31st October 2015)