Cineplex: Save Additional 10% with Scene Cards Every Tuesday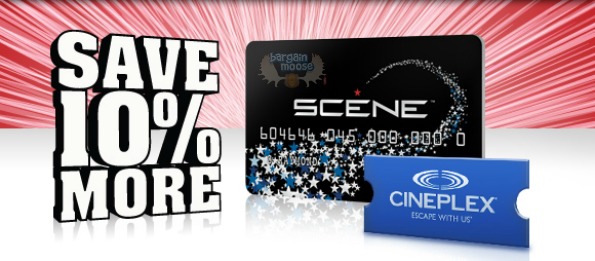 Starting June 5th 2012 you can save an additional 10% on your movies every Tuesday just by using your Scene card.  You will already get a reduced rate for movies on Tuesdays so this is in addition to that.
When you show you Scene card on Tuesdays starting June 5th, you will save an additional 10% off your ticket price.  This includes IMAX and Ultra AVX titles.  A Scene membership card is absolutely free and will earn you rewards towards free movies.
SCENE membership card includes:
Earn 100 SCENE points with every movie
Get 10% off movie snacks
Get a free movie with just 1,000 points
You get 250 points just for signing up
I have had one for a couple of years now and we don't go to the movies very often.  In about 2 years, we have earned 4 free movies going to the theater about 3 times a year.  You earn points through movie and concession purchases.  It is one of those cards that are worth signing up for because it is free and you will earn points.
(Expiry: Ongoing)