Build-A-Bear Canada: New Star Wars Bears (Plus 25% Off $40+)!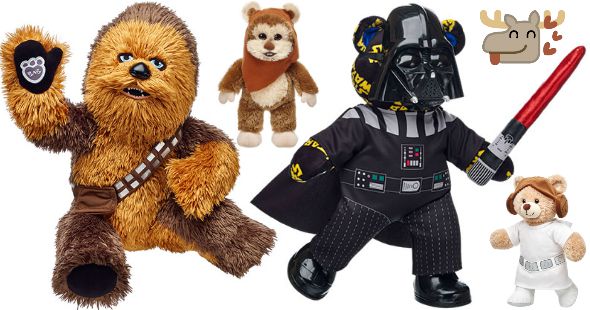 A lot of retailers seem to be throwing in Star Wars featured items lately, and Build-A-Bear is one of them. Build A Bear Workshops across the globe have introduced their new Star Wars characters including Chewbacca, Ewok, Princess Leia, Darth Vader and more. These bears start as low as $12.50 but can cost up to $75.50. Your best bet would be to snag one of these adorable characters in your local Build-A-Bear Canada Workshop to save the shipping costs. Though, if you do shop online then you can enter the coupon code 25AUG40 to take 25% off orders over $40. Also keep in mind that if you shop online you could be hit with duties as well.
Not too long ago I wrote about the Star Wars theme shoes available at Adidas.ca, and now I will tell you about the Star Wars themed characters at BuildABear.com. These adorable creatures will only cost you a fraction of what the Adidas shoes would have cost, and would still make an excellent gift for that die-hard Star Wars fan in your family or friends circle. Plus, if you're going to spend $40 or more online then you can enter the coupon code 25AUG40 to take 40% off the cost. And while I did get excited when I saw "Free Shipping on orders over $40" on the BuildABear.com website, it only applies to US orders. Thus, I think it would cost less money to actually create the bear in stores and not worry about any shipping costs. It is also more fun and a little more personal to stuff the bear and make a wish on the little heart they put inside.
The 18 in. Chewbacca has to be my favourite out of the Star Wars themed Build A Bear characters. While I am not a huge Star Wars fan, I have always thought this guy was awesome. The 18 inch Chewbacca Build A Bear is going to cost you $35, but that's not too bad for an item that a collector will love for life. I got my first Build A Bear about 10 years ago and he still sits tall and proud on my dresser, just like new.
They have a few different characters in a few different sizes available. Here are your options when it comes to Star Wars characters at Build A Bear Canada:
16 inch Star Wars Bear - $25
10 inch Mini Ewok - $12.50
Princess Leia Happy Hugs Teddy With Sound - $42
Han Solo Star Wars Bear with Blaster and Sound - $64
The Ultimate Chewbacca with Sound - $54
Darth Vader Star Wars Bear with Sound - $75.50
R2-D2 Star Wars Bear with Sound - $57.50
There are also plenty of costumes and accessories for your new stuffed friend. Variety may differ depending on stores, but aren't these just the coolest little teddy bears?! You can checkout other coupon codes and discounts available at BuildABear.com in our Bargainmoose forum.
(Expiry: Unknown)