BOGO General Admission @ Landmark Cinemas (Printable Coupon)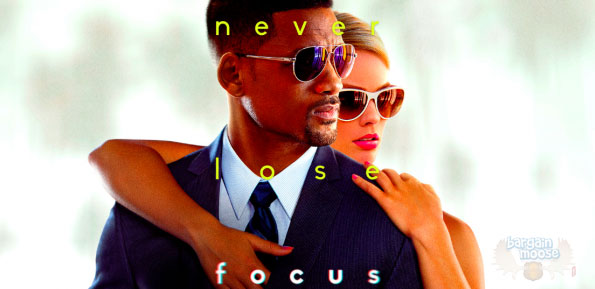 3, 2, 1, it's movie time! Starting March 1st, you can use the printable coupon available at the link below to get a free movie ticket with purchase of a general admission.
On the coupon itself, you will see in the upper right corner that this BOGO offer is only valid on March 1st, 2nd, 4th and 5th. The third of March is completely skipped because of it being Tuesday, also known as Cheapie Tuesday, during which all admissions get automatically slashed in half anyways.
Not sure what to watch? "Focus" is coming out on February 27th. It's odd because personally, the only time that I have seen any kind of promotion for it is today on TV. Even my hubby who is an incredibly huge movie buff was surprised to see Will Smith in another movie given that his last two roles were not main ones at all. He played a judge in "A New York's Winter's Tale" and an ESPN reporter on "Anchorman 2" before that. It's a romantic dark comedy that focuses on the story of Nicky, a con-man who gets sidetracked by a young woman - surprise, surprise!
Speaking of a romantic movie, you could also check out Fifty Shades of Grey. It's of course been highly hit or miss at the box office, with some movie viewers leaving the middle of the viewing, others love it and even more people than that boycotting. In any case, if it's your cup of tea, then that's another choice!
Another movie that could be interesting to watch is The Lazarus Effect, a thriller with Olivia Wilde and Donald Glover. Starting on February 27th, the plot centres around a team of medical professionals who find a way to resurrect the dead. However, when they are successful in bringing back their lead researcher back to life, things go unexpectedly haywire with a potential for the supernatural. It's labelled as thriller, but judging by the description it does seem to have a tad of horror injected into it as well.
Moosers, which movie are you most excited to see at the box office @ Landmark Cinemas?
(Expiry: 5th March 2015)