60% Off Hardcover Photobooks + Canvas Prints with Exclusive Code @ Photobook Canada!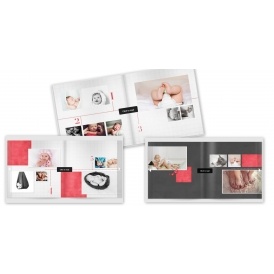 What a timely sale and fabulous gift idea for a new Mom, or your own Mom! All hardcover books from Photobookscanada.com, and all canvas prints are on sale for 60% off with an exclusive BargainMoose promo code entered during checkout: MOOSEMOM. But note—the last day to receive a gift in time from May 8th is tomorrow! April 30th.
Fill your photobook with precious photos that will etch memories into the hearts and minds of these moms and kids forever. Check out some of these photobooks that some people are creating! So many cute ideas to gather inspiration from.

If my kids created a photobook for me like this I would love to see a collection of not only happy moments, but funny ones, too. Like the time my daughter drew with her crayons a picture of her Dad on our floor tiles. Like any Mom would, I told her she shouldn't do that, then I snapped pics. She once covered her legs completely with green paint. "Look Dad, I'm a frog!", she exclaimed happily to him. The photos captured that memory, too. Those are the kinds of memories that your kids, you, your Mom, and that special new Mom, all cherish!
I just saw the best idea ever for a photobook gift for your Mom. I want to design a cookbook out of all of the recipes I have saved on my computer in the 'recipes' folder! This food magazine photobook will let you do that with ease. I would order one for my Mom, one each for my sisters, and one for myself. You can get 65% off this specific photo book by using code MOMSBEST.
If your kids are looking for a nice gift idea for Grandma for Mother's Day, what about a photo mug? The mugs start at $14.99, and you could showcase a drawing or two that they have created.
Shipping: If your order is over $75, (excluding canvas prints), shipping is free! Otherwise, shipping will vary depending on what you have created.

(Deal Expiry: May 8, 2016, but the last day to receive in time for Mother's Day is Saturday, April 30th)