Everest Backpacks, Totes, & Waistpacks From $4 @ Amazon.ca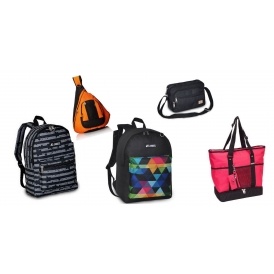 This Everest sale at Amazon.ca is a hot one, you need to click on the link and start adding things to your cart like the Everest Backpacks, Totes, and more which are currently up to 65% off. With those discounts, prices are starting at $4.00 and up!
Here are a few Everest products I found that really stand out over at Amazon Canada:
The Everest Basic Pattern Backpack, Star Stripe in Charcoal Gray & Black is a great unisex bag - yes, for both you and the hubs. It is on sale for only $9.50 down from $25.
Look at this one! The Everest Classic Pattern Backpack, Black/Prism is a colorful backpack that has a strong geometrical pattern. It's selling for only $16, down from $32.
Looking for a smaller sling bag? This Everest Sling Bag in Orange is perfect for hoisting over one shoulder. The bright color is refreshing for spring. Handy for travel, too so your travel companion can quickly spot you! The $18.50 price, down from $27, is appealing!
Bright and Colorful! This Everest Luggage Deluxe Shopping Tote, Hot Pink/Black is HOT - what a great tote bag. It's only $19 from $34!
This Everest Shoulder Bag in Black is the best small bag you can ever use when traveling. I love this type of bag for trips by airplane, it helps you stay organized! At $9 down from $27, this one will go fast.
Head over to Amazon Canada's Everest Sale now... this sale is so hot, it won't last long, so you will want to buy now.
Shipping is free on Amazon.ca on eligible items after you spend $25, so that is the best route to go. If you are an Amazon Prime member, these products ship for free. If you don't make it to your $25 minimum, shipping is reasonable, usually starting at around $5 and up for something like this.
(Deal Expiry: Unknown)