La Vie En Rose Canada: B2G1 Free On All Cotton & Get $25 Off $50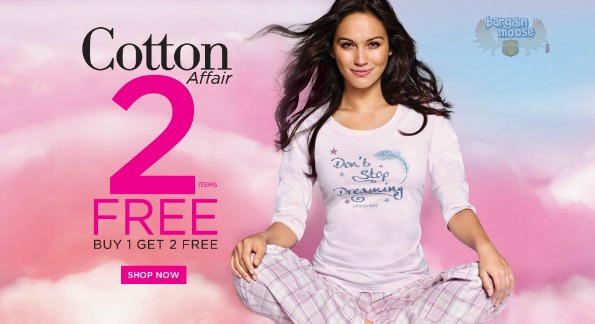 La Vie en Rose is having a cotton affair, offering everything cotton in sleepwear at buy two, get one free. Also, you'll earn $25 for every $50 you spend to redeem at a later time, up to $75.
I love having something cozy to sleep in at night, although I am a minimalist when it comes to pyjamas. Seeing people in those button-up flannel pyjama sets makes me feel claustrophobic. I like a simple short-sleeved nighty or at most, shorts and a t-shirt. This sale is perfect for me.
Check out these cute boxers for women, in pink or blue, with an elastic drawstring so you can let them out after a big dinner. $19.95
Although the sale is in the sleep and lounge section of the site, this dress looks good enough to be worn lounging outside of the house. $29.95
This nightie is totally my style with adjustable spaghetti straps. You can even find the pants to pair it with if you are so inclined. $19.95
If you buy the boxers and the dress, you'll get the nightie free, saving you $20!
Do another round of three items and you'll get free shipping when your spend hits $75. Keep it going up to $100 and you'll get two $25 certificates to spend from September 9 - 22 on orders over $50.
(Expiry: Unknown)