LEGO Dimensions From $7.49 - 50% Off + Free Ship at Microsoft Canada!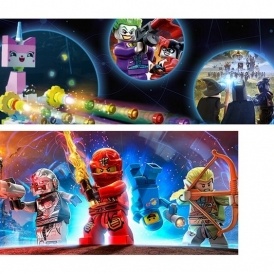 Do you know someone who LOVES the LEGO Dimensions video game? You will want to share this with them, and/or purchase some of these great LEGO Dimensions sets that will help to unlock levels in their game! You have to ensure that you are purchasing for the right gaming system for the gamer who will be using it. (Xbox One, Xbox 360 or PS4?)
This LEGO Dimensions collection is on sale for 50% off at the Microsoft Canada store, and could sell out very quickly. Prices start at only $7.49, down from $14.99, and include free shipping!
If you are interested in this game but have not yet gotten into it, then the starter pack is exactly what you are looking for, as it includes the game!
The LEGO Dimensions Starter Pack for Xbox One is only $54.99, marked down from $104.99 and includes free shipping! The LEGO Dimensions Starter Pack includes: LEGO Dimensions videogame, LEGO Toy Pad, bricks for the LEGO Gateway, 3 LEGO minifigures (Batman, Gandalf, and Wyldstyle), and LEGO Batmobile vehicle.
At 50% off, and free shipping, this is one of the best deals ever on this LEGO Dimensions sets available right now.
I have to say, I love their fine print: Free Delivery. Free Returns. Plus - the pricing you see is in CAD funds.
(Deal expiry: While supplies last.)