Half-Price LEGO Dimensions Level Packs @ Amazon Canada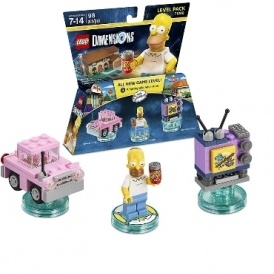 If you've already got the LEGO Dimensions game or you just grabbed it, then you will also want to get your hands on these Lego Dimensions Packs which are on sale for 50% off the original price - get the Warner Bros Lego Dimensions Back to the Future Level Pack and the Warner Bros Lego Dimensions Adventure Time Level Pack and more for $15 down from $29.99.
If you don't have the LEGO Dimensions game yet, you need it. The kids will have a blast building the figures and adventuring throughout the game. Plus - you can buy new characters and packs to keep the game ever-changing. It is a huge hit in our house!

Some of the other Level Packs are on sale too:
Dr. Who Level Pack $28.66 (was $39)
Ghostbusters Level Pack $24.74

(was $29.99)

Mission Impossible Level Pack $15

(was $29.99)

Portal Level Pack $20

(was $29.96)

Simpsons Level Pack $15

(was $29.99)
Get free shipping on orders over $35.