Half-Price LEGO Dimension Packs @ LEGO Store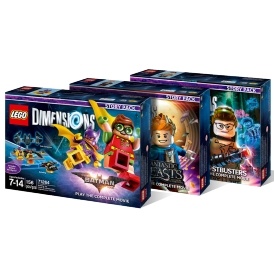 If you've already got the LEGO Dimensions game or you just grabbed it, then you will also want to get your hands on these Lego Dimensions Packs which are on sale for 50% off the original price - some start at $7.49 at Shop.Lego.com.
If you don't have the LEGO Dimensions game yet, you need it. You can grab the LEGO Dimensions Starter Pack for $87.99 - $109.99 while you shop at the Lego Store Online. The kids will have a blast building the figures and adventuring throughout the game. Plus - you can buy new characters and packs to keep the game ever-changing. It is a huge hit in our house!

Here are some of the Lego Dimensions Packs that are currently on sale:
Shipping varies, but essentially if you spend over $35 you will get shipping and handling for free. Orders from $0 - $25 will be charged $4.95 and orders from $25 - $35 will be charged $6.95.