From $9 And Up - 20% Off LEGO Selected Minecraft and LEGO City @ Toys R Us Canada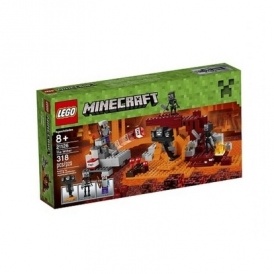 I know a lot of our Bargainmoosers have kids who are LEGO fanatics, and when you add Minecraft to the mix, you get a fanatic unlike any other... The best kind, really! It's a great creative outlet for kids to play with LEGO. These sets go far beyond the traditional basic yellow, blue and red LEGO bricks of yesterday, paving the way for even more creativity. I'm still reeling from how they manufacture all of the different LEGO pieces that we discussed in our Lego Hunting Deals That Will Save You Money post. Watch the vid. in the above link if you get a chance! The part at 4 min. in is great, show your child, I bet they would want a job like that one day!
Toys R Us is targeting 72 popular LEGO sets for this sale in the LEGO City and LEGO Minecraft collections! That's a lot of LEGO on sale for to you browse through.
Here's a fun, inexpensive set for kids who love the thrill of the chase - this LEGO City Police Pursuit is on sale for $24, down from $30.
If you want to save $15 on a LEGO Minecraft set, this is the one: LEGO Minecraft The Desert Outpost. Your kids will want to grab their weapons, load up the TNT launcher, and prepare for battle against the skeletons! This set is on sale for $60, down from $75.
In the LEGO city collection, you can have your pick of any career a kid could think up! There are Firefighters, Deep Sea Submarine Operators, Astronauts, Construction Workers, Race Car Drivers, and - whooaa, hello,what's this!?! I just found the coolest set yet! This LEGO City Heavy-Haul Train is on sale for $192, down from $240. You're saving $48 on this set! You know what else is great about it? It's a Toys R Us Exclusive, which means you can't purchase it anywhere else. This means that you got it at the lowest price then.

Shipping is free when you spend over $45, otherwise, will start at around $10.

(Deal expiry: June 9, 2016)