Water Bottles from $4.99 @ Kitchen Stuff Plus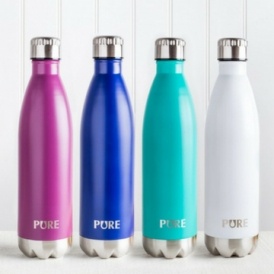 I always struggle to drink enough water throughout the day, but buying a new water bottle definitely helps me stay on track (at least for a little while)!
If that sounds like you too, you might want to head to Kitchen Stuff Plus, since they have water bottles on clearance from $4.99!
You've probably heard about these sprayer bottles that have a built-in spray nozzle, so your kiddos (or you) can cool off during soccer games or on those hot August days. Kitchen Stuff Plus has them in four different colours, and they're all half-price!
Check out these deals:
I have my eye on this KSP Quench 'Wood-Look' Double-Wall Water Bottle. It's pretty similar to a S'Well bottle, but it's 60% off and now $9.99!
Orders over $75 ship free.