Totally Bamboo 3-Piece Cutting Board Set $8.25 @ Amazon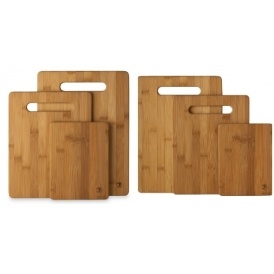 There are many benefits to using bamboo cutting boards and Amazon has a great little set of 3 boards for a steal -- just $8.25.
Bamboo is the perfect wood for a cutting board; it doesn't just look good on your counter. The boards measure: 6 by 8 inches, 8-1/2 by 11 inches, and 9-1/2 by 13 inches. Made from organic Moso bamboo, they're super strong and naturally microbial. Bamboo is very dense which helps to keep water out and avoid bacteria growth; it doesn't warp or crack as easily as other woods (when properly cared for).
There are a few negative reviews regarding warping but I suspect these people probably threw them in the dishwasher which is a no-no. Wash them with warm water and soap; you can do a teaspoon of bleach instead if you've been preparing something like raw meat. But the majority of reviews are very positive!
These will ship for free if you're a Prime member, otherwise, you'll want to add the set on to a larger order to avoid any shipping costs.
(Expires: Unknown)