Tatung Electric Rice Cooker Now $20 @ NewEgg.ca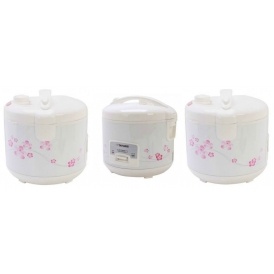 Rice has got to be the hardest thing to get cooked properly. Or maybe I just find myself having frustrations with it. It ends up too dried out or too soggy almost every time. I'd love to try the Tatung Electric Rice Cooker, and if you are in the same boat then here's your chance too. Get the Tatung TRC-8DC Electric Rice Cooker (8 Cups) on sale for 71% off the regular price at NewEgg.ca. That leaves you paying just $19.99.
Even after your rice is perfectly cooked, the Tatung Electric Rice Cooker will keep your food nice and warm. You are limited to five of these purchases per customer, so if you want to give one of these as a gift then be sure to snag it now.
Another fabulous bonus to this item is that the inner pot is non-stick! Rice can be such a bleep to clean out sometimes, especially when you have a toddler hanging off your leg. This one should be easy enough to make the entire rice cooking process easy enough to enjoy. Besides, it is easy to find a delicious recipe online to combine with the rice you are about to cook perfectly.
You will have to pay $9.99 for shipping and handling, but you won't even notice that cost with the amount of money you are saving right now.
(Expiry: Unknown)