Take 50% off Lock & Lock Plastic Containers (FS on $75) @ Starfrit Canada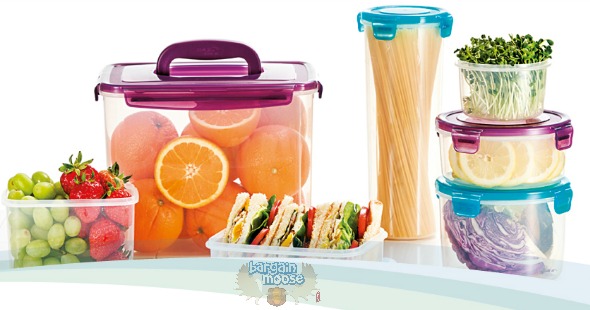 If you want to take a look at an organized kitchen, come over to my house. I have an abundance of plastic containers and locking containers to keep everything fresh and organized. You might need to organize your kitchen as well, and it can get expensive. Now is the time to do so. Starfrit Canada has a coupon code that will take 50% off the regular price of all Lock & Lock Plastic Containers.
Click here to take 50% off @ Starfrit.com
Coupon Code: LOCK50
Discount: 50% off
Expiry: Unknown
Depending on the size of container you need, the Starfrit Lock & Lock containers start at a regular price of $2.99. With 50% off, you could spend as little as $1.50! I personally adore the Twist containers. They are pretty much toddler proof, seal in freshness and can stack on top of each other. In the Winter I always crave hot chocolate, but I do despise stale marshmallows. The Lock & Lock Twist 330 ml Container would most likely be able to hold a small bag of marshmallows. This container was $2.99 but after using your Starfrit Canada coupon code you will pay just $1.50.
Lock & Lock also makes those lovely rectangular containers with the snap lock lids. These Lock & Lock Krystal Rectangular Containers are great for berries and other small snacks if you pack a lunch for yourself. These containers start as low as $3.99 for the 180 ml size. That leaves you paying just $2.00 for one container. These containers are both air and liquid tight, so you can virtually bring anything with you for lunch in these brilliant little containers. You can even get containers large enough to store flour, dog food, cereal or other dry goods.
You may even be looking for an assortment of containers. Starfrit.com offers the Lock & Lock 13 Piece Set for just $24.99. Use your coupon code and you will end up paying only $12.50 for 6 assorted containers. This set includes: 2 x 350 ml rectangular, 3 x 800 ml rectangular, and 1 x 5.5 l rectangular. This is an excellent set for a family that brings lunches to school or work, or even if you just want to keep snack food fresh.
You can even get free shipping on your purchase from Starfrit.com when you spend $75 or more. Otherwise Canada Post shipping will cost you upwards of $6. If you are in need of organization items for your home then this is the time to snag the deal. You can view more Starfrit.com coupon codes and promotions in our Bargainmoose forum. Don't forget to sign up for email updates so you don't miss any future savings opportunities.