Tacky Sweater A La Cake Style $14.97 @ Walmart.ca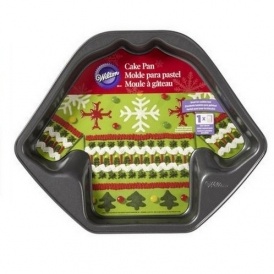 Cool air is edging in this past week and all too soon we will be brandishing our very best tacky sweaters for tacky sweater day at school, work and maybe we just happen to like wearing tacky sweaters. Sometimes. Maybe.
Wilton has gotten into the fun spirit of making fun of tacky sweaters and has designed a Tacky Sweater Baking Set that includes:
• 1 Wilton Non-Stick Sweater Cake Pan
• 1 Wilton Icing Colour Kit containing two jars of icing colour gel: Red – Red (0.5oz) and Kelly Green (0.5oz)
• 1 box of Wilton Candy Decorations (317g) with an assortment of sugared jube-jubes and green fondant.
It would make for an entertaining event to bake several of these for kids or adult parties and you could have a competition to see who can make the best tacky sweater. This decorating set makes a nice gift as well, for the right person.
A cake shaped like this would be easy to get out of the pan and would hold the shape well.
Walmart has a fee of $5 that they charge on orders even if picking up, if they are under $25. Your best bet is to top up your order to over $25 and pick up in store, for free. If you top up your order to over $50 you'll receive free shipping. I always find useful household items that I would have to buy anyway and add them into the cart to top up.